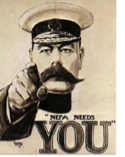 'Portsoy and the Great War'
Portsoy and the Great War is based on an exhibition which puts personal, local stories into the context of major events of WWI. Its starting point was Portsoy War Memorial, and research into names appearing on it: where these men had lived and worked, their role in the war, how and where they died, and so on.
The individual stories bring home to us the enormous sacrifice made by each town and village, in a war when casualty numbers were so immense as to become almost incomprehensible. Most of the Portsoy men joined the 6th Gordon Highlanders and the contribution made by their battalion is described. One young man, who enlisted with the Royal Flying Corps, died in his plane over France. Another served in the Royal Army Medical Corps in Mesopotamia; and many former fishermen were involved in the dangerous work of minesweeping.
The research into their stories made extensive use of local and national archives, undertaken by volunteers. Much more material was uncovered than could be incorporated into the panels, so this was displayed in folders for visitors who wished to ?dig deeper?. Pupils from Portsoy School, who had been studying WWI, made a model trench which was also displayed for the duration of the exhibition (August to November 2014, in the Portsoy Salmon Bothy).
The 5 (size A0) panels and the timeline, a lasting resource from the exhibition, can be borrowed by interested schools, libraries etc (enquiries to the Salmon Bothy welcome).
WWI Panel !
WWI Panel 2
WWI Panel 3
WWI Panel 4
WWI Panel 5