The Formartine Oral History Archive
Folklorist Fiona-Jane Brown completed the Formartine Oral History Archive project on 14th May 2008. The collection consists of about 120 hours of reminiscences, songs and conversations recorded on CD by a number of oral history groups in the Formartine area of Aberdeenshire. Under the management of The Formartine Partnership, funding was secured from the Heritage Lottery Fund and the work began in 2002.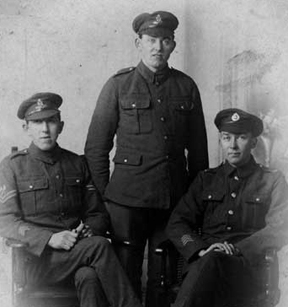 From 14th May 2008 the interviews will be available for research at:
Balmedie Library.
School of Scottish Studies, Edinburgh University.
Elphinstone Institute, University of Aberdeen.
Please note: Access to this archive is by appointment only.
Collieston fishermen serving in the Royal Artillery and the Royal Naval Division during World War I.
Find out more about this project at The Formartine Oral History Archive
Find out more about The Formartine Partnership