A Voyage to The Greenland Sea, ss 'Polar Star'1896
The diary of William Rennie Forrest of Peterhead, 1871 - 1943.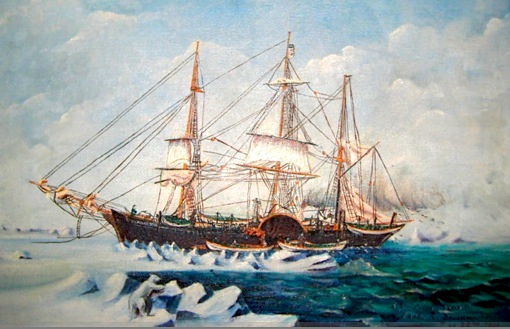 ss 'Polar Star', flensing a whale in the Greenland Sea. Painted by a crewman and dated 22nd May 1889.
The archive would like to thank David Robertson, Aberdeen, grandson of the diarist, for his assistance and kind permission to reproduce this fascinating account. After years of searching for a photograph or portrait of the famous ship this wonderful painting came to light thanks to William E Scheyer, New Jersey USA, great grandson of Captain Robert Davidson, who was for sometime master of the Polar Star.
The original notes are now kept by the Scott Polar Research Museum, Cambridge.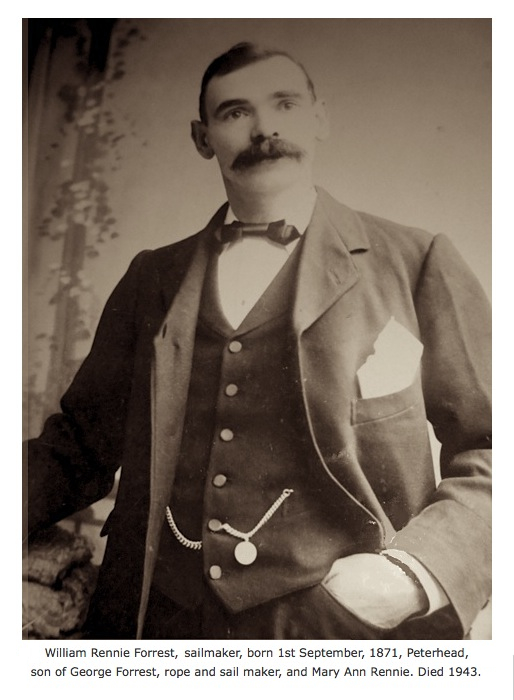 NOTES ON A VOYAGE TO GREENLAND IN 1896.
Arrived in Dundee on Friday 3rd April at 7.20pm. Went to lodgings by cab.
SATURDAY 4th APRIL.
Rose next morning at 8am, had a stroll round the docks, saw the Whaling Fleet comprised of the Balena, Diana, Active, Polar Star, commanded by Captains Fairweather, Davidson (Rob), Robertson, Davidson. Went to the Mercantile Shipping Office at 12 o'clock and joined the Polar Star as Sailmaker. Pay £2. 15s per month with 30s per ton of Bone, 2s 6d per ton oil, 5s per 1000 Skins. There was a motley crew in the outer room of the office, and if one was to judge by appearance it looked more like a tramps' free breakfast. It was half to 2 before I got clear. Had dinner, took a stroll with our Steward and home, had tea, saw our Captain, clothes down to ship and then had a ramble through the town with G Nicholl and D Weatherburn. Bought certain nick nacks. Went home.
SUNDAY 5th APRIL.
Rose at 8am, went out with W.E., called on the Rennies, had dinner, then a walk through the town; back to lodgings with W.E., Wm and Alex Rennie, then went home with them, had tea, went out again for stroll then home to bed.
MONDAY 6th APRIL.
Rose at 5.30am. Washed and made for station to get out my chest and bags where I left them on Friday; their custody cost one 6d. When I was half ways, I remembered that I had forgotten my ticket so had to tramp back again, reached Station where my cousin Keith was waiting who gave me all assistance in getting a porter to take my chest down to ship, then stripped my Sunday's clothes for a working shift in the Half Deck, then took them to my lodgings where I had breakfast. Bought a kettle on my way back and a pipe, went down to ship at 9.30, hauled out at 10 to 10. There was a good deal of hand-shaking and biddings farewell. We were soon out on the River where we lay about 20 minutes clearing up the Decks and took aboard a few of the crew who were late. Had a look for stowaways but none appeared. The crew were mostly all drunk, had to mount the Main Topgallant Yard and shake out sail, Flying jib, etc. Then we sailed away down the Bonnie Tay with a beautiful breeze. Enjoyed it fine. Took my watch on the Forecastle Head. My duty there is to report sails, lights, etc ahead or on either Bow.
TUESDAY 7th APRIL.
After a very fine run, we arrived in Peterhead Bay, dropped our anchor at 6 in the morning, landed in one of the ship's boats for 3 hours. Discovered two stowaways but the Captain decided to take them with him. Weighed Anchor at 10 o'clock. Had the honour of dipping the ensign. Saw signals of Farewell from my home, and then we bore away Northward Ho.
WEDNESDAY 8th APRIL.
Fine weather. Made one pair of leggings for Captain. Getting on fine with my messmates, who are Alexander Thowers - ; John Thowers - Harpooner; Thomas Elder - Harpooner; George Brown - Harpooner; John M Levie - Carpenter; James Strachan - C Mate; all living in the Half Deck which is the Fore part of the ship and is divided from the Forecastle Decks. Nothing of any importance taking place. We number 38 hands all included.
THURSDAY 9th APRIL.
Heavy breeze of wind with showers of rain. Very sick, throwing everything. Saying with all my heart that I will never go to Greenland again. All right when I keep on deck, smell below making me bad. Chips and his mate sick. About 12 in the tween deck the same. Glad to get to bed where I enjoy sleep. We have always a few birds alongside that recalls home. Saw a bottlenose whaler today but did not get a close sight of her.
FRIDAY 10th APRIL.
Keeping a little better. My mate J. T. showing great kindness to me which I would like to remember. Weather dry, good breeze. Everyone cheery.
SATURDAY 11th APRIL.
Made a cover for the Beef Aft. Glad to get a job in my own line. Knocked off work at 2, washed ourselves and tidied things up. Had a yarn or two then went to bed at 9 o'clock.
SUNDAY 12th APRIL.
Rose at 8 o'clock, had a wash, breakfast, then went on deck. Have not attempted to smoke since we left Peterhead. Have had a chew now and again. Feel more at home now.
MONDAY 13th APRIL.
Been covering spurs all day. They are for the boots of the men who are working on the back of a dead whale. Hear and see some rare scenes amongst the crew.
TUESDAY 14th APRIL.
A decided change for the worse. The weather has become very cold and we have had snow pretty often with great squalls of wind. Ship flying along at 7 knots under close reefed courses and spray freezing to the deck, ropes, etc as soon as it came aboard. Every one with his body well covered up. During a squall, the Fore topsail burst. Got orders to go aloft during a heavy squall and repair it. Got canvas, guided my way to go to Fore rigging where I found the rigging and shrouds one mass of ice. Went up to Fore yard, had a look, saw that it was impossible to repair it under so very bad conditions. Told the Captain that I could not do it. He tried it but gave it up, so I was very thankful when he reefed it down and allowed me to get down. Cold maddening on the hands, drenched to the skin by a sea. Had to shift. Came below, had my tea, washed, then sat down and wrote this while the stormy waves beat over our gallant Barque. She is some short and quick for this sea. We have on board some very poor looking fellows including the two stowaways. The crew sups in 4 messes of 8 men each, and as the crew consists of 32 forward, there is two travellers who get their beef etc from each mess in rotation. Hoping the weather will fair tomorrow. I will now turn in.
WEDNESDAY 15th APRIL.
Made the young ice this morning about 1 o'clock. When I turned in about 10 o'clock I felt a thud against my bunk on the outside, so I expected to see the ice in the morning. It's a rare scene, the Malay birds flying here and there, then an occasional seal lying on the ice or in the water as we go hammering through the ice. The wind very cold but not damp. The Harpooners are very busy cleaning their rifles and Harpoon Guns so I think we are to take everything that comes in our way. Did very little work today, repaired a coat to the Captain, leggings, etc, some work to various members of the crew, dressed a finger for Bill Woods, the Blubber Inspector. Am to get a splendid pricker from A Thowers. Feel my chest a little sore. One very awkward thing about this ship is that when you have to ease yourself, you have to get over the side or the Bows which is not a very nice thing to do, seeing that everything is frozen hard, the spray that comes aboard at the windward freezing ere it reaches the deck. Captain tells me he is 200 miles from the whaling ground.
THURSDAY 16th APRIL.
Woke about half six. Ship plunging very heavy. Felt some queer sensations in my stomach that ended in my throwing up everything. Was called on deck at eleven o'clock to take down Fore Topsail which we did in a biting and blinding squall. Then I went below to dinner. After that, started to repair sail in the afternoon, stopped at 5 o'clock. We had bread today for dinner. It tasted well but was very heavy. Crows nest went up today. Think a whaler's life in so far north a quarter the most hazardous and forlorn lot that could be imagined. We have never seen a ship and a number of our crew have no mittens to keep their hands warm in this cold weather.
FRIDAY 17th APRIL.
Rose at 6 o'clock, after having a fine night's rest. Started work at 7 repairing Fore topsail, had a little beef and spuds for dinner, then went to work again. The weather is fine and quiet today, a little cold but clear, no wind. Still amongst the young ice. We are preparing the boat's harpoons etc. Hung Captain's spy glass, a monster of 4 to 5 feet in length. No wonder the sailors get fat on this ship, some are eating and boiling every four hours. Up to date I have been a 7 bells man, that is starting at 6 in the morning and stopping at 6, but expect to take a watch whenever three watches are set. Saw a good many rocks today. Went to bed at 9pm.
SATURDAY 18th APRIL.
Worked all day from 6 to 2 at topsail. Weather very cold but dry except an occasional shower of snow. Everybody on the watch are busy getting the boats hung in the davits fixing up. We are still on 2 watches, namely mates and second mates. We are still amongst the young ice, it is in the form of round large pancakes as far as the eye can see on all sides. Went on deck for a smoke about 6 bells then came below and sat about, then went to bed after having a good vomit (ugh).
SUNDAY 19th APRIL.
Rose at half to 7 in fine form. Chip and I had wash, cooked some ham for breakfast, had tea, a farden biscuit, one of Wm Rennies, so much for breakfast. Filled in the forenoon by reading, had dinner at half 12, composed of one good sized piece of duff of good quality containing currants, 1 bowl of tea, and some hard biscuits. Sauce to the duff is made in the following way. Fill a pot about half full of water, allow it to be at the boil, make up in a jug some sugar and butter, a little flour and lime juice; beat them all well up, pour into the pot and boil for a time. So much for dinner. Tea for teatime with a bit left duff and a farthing biscuit, then went to the engine room and had a yarn there. Went on deck, helped them reef her down; a good breeze blowing. Pumped her out, came below with Chips, had a spelding (Mrs Ritchie's), a cup of tea, then went to bed.
MONDAY 20th APRIL.
Rose at 6 o'clock, went aft to tween decks. Could not get started to topsail for the hands taking up the dingy and knives, harpoons, lances and all the whaling apparatus, water kits, bread kits etc, so I started and covered a pair of spurs. Spurs are a sort of skeleton shoe with spikes on the sole that holds the harpooners feet and the first and second mates feet on the whales's back. Got a start at topsail about breakfast time, had pea soup with pork to dinner. Soup very good. Back to work at 1.30, worked to 5.30. Captain sent I, Chips and a boat crew away shooting roches. We had a glorious time I being boat steerer, while Chips did the shooting. (It was grand). Killed 1 Malay, 5 roches when the ensign was run up at mizzen mast head recalling us. The scene can hardly be described. It is dead calm, not a sound except the cheep of the roches. Broken ice as far as we can see. Had 2 hours shooting then had a walk on deck, came down, had a drink of lime juice. Had a laugh at a stowaway who is sent aloft to stow the Fore top-gallant sail, then to bed.
TUESDAY 21st APRIL.
Rose at half 7, worked at topsail, finished it at 12 bells, then started to make a bag for glasses. Heavy gale of wind blowing ship under close reefed topsails and reefed main stagsail. Extremely cold weather. Went to bed early. Some of our crew are feeling the cold very badly.
WEDNESDAY 22nd APRIL.
Extremely bad day, beastly cold weather. Worked away very miserably. Had some tasty bits from the steward, which Chips and me were not long in disposing of. It was the most hamely bit we have had since we left home, then retired to bed.
THURSDAY 23rd APRIL.
Started at 7 o'clock to tar twine. Got orders from the mate to make a mat for the crows nest. This was a teaser but plucked up courage and got up. When I got up I enjoyed myself up to the mark. Have to get up tomorrow. All hands called tonight to set the three watches. I am in No 3 boat hanging on the starboard quarter, the one we went ashore in at Peterhead. She is a very leaking one. I am in the speckie's watch and turn out at 4 o'clock in the morning. We are busy preparing some salt fish which we intend having to breakfast. 8 hours below, 4 hours on deck. It has been a very busy day coiling the lines into the boats and making things ready. Time is very short in fine weather so days of our 7 bells are stopped.
FRIDAY 24th APRIL.
Very fine weather. Plenty of food, the kind we have got to eat. We have some very comic men aboard; one of them is Bill Woods. Bill has never been at sea before and on the passage out he was the most miserable man aboard and the remarks he made were very laughable. In the winter time he works in the Dundee Boilyard, so we have dubbed him the Blubber Inspector. He wears a pair of moleskin trousers, a pair of clogs with lugs. They have a most horrible stink about them. One day he was told off to stow the flying jib by the Captain's orders. He got on the Boom along with Tom Elder. The shape of him getting onto the boom was most laughable, holding onto the sail with one hand, the Boom with the other. When the ship took a dip his frantic efforts to retain his hold while he sung out to his mate `oh Tommy, Tommy, I am gone this time'. He has had a sore hand and I have been busy patching him and a lot of other chaps, mending clothes, etc. Woods is very dirty and I am beginning to tire of him. We have two stowaways on board and I must say theirs is a most sorry lot, being everybody's tool. We had a fight between the carpenter's mate and a stowaway; matey was victorious.
SATURDAY 25th APRIL.
Very little doing, just a common day work. Kail today.
SUNDAY 26th APRIL.
Sunday morning - very fine day - in fact we have had very fine weather for the last 9 days. Towards the afternoon some narwhals or Unies were sighted today. A boat was lowered and manned by Harpooner J Thowers, my bedmate. They succeeded in fixing him and then towed him alongside; the harpoon went right through him and they had hard work in getting it out. Took him to the steam winch, hove him on deck, had him gummed, cut out his body, dropped him over the side, spread his skin and blubber in on the main hatch, them took it below. It was a queer fish with a very round nose. Went below, turned in.
MONDAY 27th APRIL.
Repaired a boat's cover and filled in my watch on deck same as I do every day. I am to take my hour at the wheel tomorrow. Fine weather. Captain went aboard Active.
TUESDAY 28th APRIL.
Turned out at 12 midnight to our watch. We put in four hours on deck and eight hours below with a dog watch every two nights. Spoke with the Diana this afternoon and Captain went aboard, then we stood away. All the ships look much bigger than us. Went away after two seals in the Speckies boats, Chips and me. Speckies rifle failed to go off twice, then he fired two shots but missed it. Being all the cartridges we had we returned to the ship, got another rifle, some more cartridges, then away after them. Speckie fired and killed the mother, then he shot the young one. I was told to fix a hold of the mother by a fore flipper which I did and hauled her aboard. Returned to the ship after I had got a chance at a Malay from the speckie. When we got there we drew them on deck, hoisted up our boat. The seals we flinched and G Brown, my worthy harpooner, took the heart, liver, etc to himself, while Chips and I got a flipper each from the old one. We are going to get them skinned by Jack Thowers. We then turned in after having had a feed of biscuit, pudding with some sauce.
WEDNESDAY 29th APRIL.
Rose at 7.30, went on deck at eight. A good breeze blowing. We have a good deal of backing and pulling just now, in fact, the braces are hardly out of our hand just now. Weather very cold, showers of snow. Diana close by. We have some visitors just now, some worthy boatsteerers come forrid and tell yarns. We have some members in the half deck, one member especially who has come through the hard in this country. He was in one of the chieftain's boats when they lost sight of her and were 3 days in an open boat when they reached Iceland. I will turn in.
THURSDAY 30th APRIL.
Got on deck at 4am; a fair breeze, ship just dodging about. Balena and Diana in sight. Very cold with showers of snow. Turned in at 1\2 past 9. Rose at 3, went on deck at 4pm, dog watch from 4 to 6. We burned Bill Wood's Effigy tonight, had a grand procession round the decks, nearly all the crew in curious get ups. The cook and Fireman played the leading parts, the former wearing a kilt with a brown slouch hat on, the Fireman with a coat turned outside in, while the gun carriage was occupied by the effigy and dragged by two hands covered over to resemble an ass. It was then hoisted up to the main yard after being set afire. Several of the harpooners fired their rifles into it, then it was jerked up and down by the Cook and Fireman, the crew meanwhile singing some old songs, till it fell to pieces, then we went aft to the engine room where we had a good wash, then to the half deck where we had a good supper. We have been sailing under topsails, mizzen and Foresail. Am now about to retire. We are over 80 degrees north. The steward says he overheard the Captain say that we are as far North as he has ever been.
FRIDAY 1st MAY.
Heavy breeze, ship under close reefed topsails, reefed foresails. Are being compelled to come out from the ice as we are in danger of being nipped. Got clear, heavy swell on. Am a little sick. Crew are very happy except those who are sick. G Brown, my harpooner, had the honour of seeing the first whale on Friday afternoon, but the weather was too rough to attempt to catch him.
SATURDAY 2nd MAY.
Very cold day; ship under close reefed canvas. Had a while at the wheel. Sugar and coffee done. Hope to get a little from the steward who gives our mess a rowie now and then; it is the sweetest little morsel I can imagine.
SUNDAY 3rd MAY.
Very cold; in fact, I think it is the coldest day we have had since we have been amongst the ice. We are running for shelter under the lee of a point of ice. Am a little sick in the stomach but my head is always clear. We get plum duff on Sunday, that is a flour duff made of flour, currants, and the cook makes a very good job of it by baking them in long round cans just the same as the bakers make their round loaves in, it is then taken out of the can, placed on a dividing board, cut up in double shares, then one turns his back to the Board and sings out the names of the mess as one member points each share. Chip and I are getting to be first class cooks, so we make sauce for the duff by beating some margarine of a very bad quality with sugar and a little lime juice, then put it in a pot and allow to boil, then put in some flour and water, stir and allow to boil a few minutes, then serve up in grand style. That is our dinner on Sunday, also on Thrusday minus the fruit. Our week day dinners are pea soup and Broth, another Hard fish on Fridays which we have to cook ourselves.
Our table of Rations:
Bread 6lbs per week
Beef 1 and a half lbs on Beef days
Pork 1 and a quarter " " "
Tinned Meat 1 lb " " "
Soup Sufficient
Vegetables At Master's discretion
Flour Quarter lb or Pudding
Rice Sufficient
Tea Half lb per month
Sugar 4lbs " "
Coffee 3/4 " " "
Molasses Sufficient
Water Sufficient
Substitutes
1/2 lb of Butter and 1lb Marmalade to be considered equivalent to 1/2 lb of Beef and 1/4 Pork daily.
On Sunday I had a small piece of Ginger cake, the one that Helen gave me. It was the best mouthful I have had since we left home so am taking great care of it, also the ginger and extra strongs. We would have been better had we brought a bigger supply of Flour with us.
MONDAY 4th MAY.
Sailing amongst bag ice. The Active is stuck about 4 miles away on our port quarter while the Balena and Diana are trying all they can to force a passage about 6 miles on our port bow. Stuck at 2 in morning. Steam shut off, all sails cleaned up and made fast. Very fine morning, sun as bright as ever I saw it, but of a steely coldness. Various members of crew hanging out clothes that freeze very quickly. There is no further observance of Sabbath here than the knocking off extra work such as looking over rigging, etc. I have been engaged at Main top gallant sail all afternoon along with 2 boys, one belonging to Aberdeen. One came out of the Mars (Training) ship at Dundee. We had a hand to stow it from the steward who enjoys a climb about. It is a rare sight from aloft, miles and miles of ice of all forms; away on the horizon you would think you see fleets of Herring boats, ship camels, bears in the hundreds and every conceivable animal, while here and there a seal pops up. (Afternoon) All the ships are fast, think we will get clear about 9 o'clock as wind is growing stronger. Our watch from 8 to 12.
TUESDAY 5th MAY.
Turned out half 8; on deck to twelve. Strong gale. Seeking out amongst ice again; all the ships are doing same. Am making a wing for Bridge. We are keeping a sharp outlook now, there is all three on the watch, one on the forecastle head, the Bridge and nest. I have an hour each watch on the former and during a gale of wind and drift such as we have had for the last 5 or 6 days it is a stinger. We are tacking and weaving every few minutes, and our arms are sore bracing so often, but our good little ship works to the windward like a steamer under close reefed topsails and Foretopmast staysail, Mizzen F. staysail.
WEDNESDAY 6th MAY.
Still a gale of wind blowing, very cold. Came on deck 4 to 8, working our way to the North West. Plenty of ice but very broken up. Would like to get nearer the main ice, but would like the bigger ships to lead. At half past one just after we had our dinner, and were having a chat, we heard a boat being lowered away and words of a fish. At once all was confusion. We threw on part of our clothes and up we went on deck. Two boats were pulling towards a hole of water where the whale was seen, but the Bag ice was very thick and hindered them, so they returned after being away 2 hours. The fish was supposed to be about 9 feet in bone. Towards 8 o'clock in the evening, just as we were about to go on watch, the skipper shouts from the mast head that a fish was to be seen away on our port bow. At once two boats were manned and set off, then other two. As it was not a call for all hands and our boat not being ready having no lines coiled, I did not get away. The wind was very cold but we did not feel it, for all was excitement. The boats spread in the proximity where the fish was seen, and us on board were very anxious to see him fast, but it was not to be. She appeared to be a very cute fish, dodging them whenever they were near her. Several of the boats were as often as 6 times almost within range but she was always on the move. She was a fine fish with about 9 to 10 feet of bone, and all hands were very much disappointed when the bucket was hoisted to recall them. So up to date we have not got a whale.
THURSDAY 7th MAY.
Less wind but still very cold with showers of snow. Everybody is in hopes of coming across the fish we were after yesterday. This is plain loaf or duff day; we converted part of it into a hash by boiling it with some canned and salt meats. It went very high. Go on our watch tonight at 4 to 6.
FRIDAY 8th MAY.
I am in real good health, just feel a little pain in my chest; am a little costive. Our home provisions are almost done. Chips and I get along fine; we are on the same watch and are getting on first class. In our half deck there are 7 men living; we agree very well together but could live much happier if some of them were a little less selfish. Some of the stowaways frequent our premises, one of whom I have got an eye on. Weather a little better.
SATURDAY 9th MAY.
A change in the weather for the better. We are busy trying to get to the North West but are unable by the close condition of the ice and the prevalance of the Northerly and North West winds. The men who are acquainted with this country say that we want Westerly winds for a week or so. Just as I was thinking of turning in, my bed mate, J Thowers, shouts down the hatchway to hand him up his rifle as there is a couple of seals on the ice. In no time, other four rifles were on the forecastle head, and as the ice was a sort called pancake or young bag, we had to be very quiet. The seals tried to waddle off the thick piece they were on, but four rifles rang out on the clear air, and one seal bit the ice. A boat was lowered away and I got the job of boatsteerer. We picked it up and then returned to the ship, turned in for 4 hours. Was hardly in when A Thowers called me to come with him shooting birds. I jumped out, dressed myself, got into the boat with Chips and him, two other hands, then steered away to the windward of the gallant ship. We had two guns. The Spec began by bagging 3 dovekies (birds some like a young duck but very quick). Cruised about the ice; weather, very bright sun about 10 o'clock at night. The birds were very shy and kept away (our total at the finish was 4 dovekies, 2 rockies and 4 Snow Burgs. Two of them I shot myself and intend bringing home the wings and down). It is a curious sight to see the horizon, ice everywhere in all shapes, the sun as bright as it could be at home but of a steely glare about midnight. All hands are eager for big game but in the meantime we can just hope on. Everybody is in very good health just now.
MONDAY 11th MAY.
Watch on deck 8 to 12 noon. Showers of snow in the morning. Our watch below being pretty well slept, I awoke about the quarter to five. As soon as I awoke I heard a buzz of suppressed excitement all over the ship. I did not require to ask the cause of it for I soon heard that the mate had seen a whale ahead some distance. I jumped out of bed, got into my clothes, they being all bound together with a cord called a becket, then up on deck where all hands that were left aboard were standing eagerly gazing ahead for two boats had already left in pursuit of the fish. The first appearance that I saw of the whale was a low long black like log about two miles away. She lay for a while, the boats meantime pulling hard towards her. Just as the boats were almost up to her, she rounded away showing her big black tail like a huge fan. In about 16 minutes she rose again pretty close to the mate's boat, but he did not get near enough when she went under again, rose in about 10 minutes very close to the other boat who fired at her and got fast. As soon as we saw her fast, a great shout went out and an all hands call was shouted. Everyone ran to his boat, and were away as soon as possible, but she dodged us, there being five boats in the water now, each one steering to beat the other. The boat's crew that I was in consisted of 5 men, G Brown - Harpooner; W White - boatsteerer; J Smith; Mac the fireman; and myself. We had to go to the windward of the fast boat to allow of space for the other two boats. The fish had rounded then; she came up again. She rose away to leeward where the second mate fixed her, then the speckie fixed on, while we tried her a little after but missed, so we had to fix on to the speckie's boat who towed us away a bit, then she eased down and we cast off, went up towards her to do the lancing (a very dangerous job). We fired into her two rockets, down she went, we sighted her again, got up to her, stuck a lance right to the hilt in her, while her huge tail was swinging about in a very dangerous manner. We backed off in time, then returned to her again when she came up. We stuck more lances into her until we had just one left. We were pulling up to her when she raised her tail (a nice little thing of 17 feet across and about 1'6" to 2 feet deep or thick) and down it came smashing two of our oars and gliding over the fireman's head while I dodged it by falling into the bottom of the boat, followed by the other oarsmen. We were now left with two oars to pull a heavy boat loaded with lines and half full of water, and I must say that when we had to back off again when his lance went in I thought my last had come, but no. We dodged up after her, meantime being jammed in by ice, turning here and there, we went up to her 3 or 4 times trying to get our harpoon in but could not for her tail and ice making us go almost on to her back. Seeing the danger at last, our harpooner at the request of all agreed to go to the mate's boat for two oars; we then returned to the fish with the intention of fixing our hand harpoon into her, but it drew and we got stuck in amongst the ice while the fish made away to the windward of the ship. We pulled after her but was called on by the master from the masthead to get a supply of rockets which we did and was returning to the affray again when the mate fired in another rocket. She slowly stopped her pace, turned over on her back and died, after the first boat had been fast from half past 5 to 10 o'clock. Our boat was made fast to her by the tail, while the ship sailed away to pick up her boats; down came a heavy shower of drift cutting us off from the ship for 2 hours. At intervals we heard her blowing her whistle for us. We replied by firing our harpoon gun off. We were joined by the second mate's boat who made fast to us and was then picked up by ship half an hour after. As soon as we came alongside we made her fast with her tail to the bow, and her fins by a chain, then we went below and had dinner. Everyone was in the best of spirits and we commenced to flinch her at half to 1, was finished about 8 at night. Made a bag and started to make her off at 12 o'clock next day and was finished by 10 o'clock at night after a very hard day's work. Went on our watch at 12 very tired, but thoroughly pleased with myself. We think the fish will yield about 12 to 14 tons of oil, while the bone is 9 feet 6 inches long. The captain is very well pleased at us getting the first whale for the fleet. The ship has assumed a different appearance now, everything you see is claggy with oil, but we will put up with that and hope that we will soon have a full ship or have our share with the remainder of the ships. We have the honour of taking the first fish this season, and may we have the most as I think we all deserve it, especially our Skipper who manages our ship with rare judgement and discretion. Occasionally I dream of home, and am very often in talk with Nellie, while on the 14th I had a dream that father was dead. The Captain occasionally speaks to me and gives me a word. The Carpenter and me are great chums, this being his first voyage to sea also. His parents are in the boat-building business in Dundee, but he does not stay with his father, there being some difference between them. He is a good enough chap, some hasty in temper and likes a good square meal at any time. Him and his mate do not agree very well. His mate sleeps with him and the bunk is too small, so there will be a split I think. I will endeavour to get them to agree if I can, yet I still see faults on both sides, so does the few of the crew who are sort of respected.
TUESDAY 12th MAY.
Made ------ of fish; very tired, been out of bed since Monday morning. Hope we will get a full up very soon so as we may be home before the fishing is done.
WEDNESDAY 13th MAY.
Spoke to the Active yesterday. Captain Robertson came on board. Saw him fast to a small fish which he got. Spoke to the Diana. Captain Rob Davidson came on board same time. Have made up their minds to go South. Got up steam and all plying to South.
THURSDAY 14th MAY.
Good breeze of wind. Ship rolling very heavy as she always does. Feel a little sick and took a little of Aunty Helen's cake which revived me.
FRIDAY 15th MAY.
Still a very stiff breeze. Light falls of snow. Thoroughly disgusted with everything except some of the crew including my chums. Nothing but ice on our lee but it is too heavy to penetrate so we will have to knock about on the outside until we get a westerly breeze or a calm.
SATURDAY 16th MAY.
Just the same lazy routine - 8 hours below, 4 on deck. I hear Chips and several of the new hands say that they will sooner beg their bread at home. And I must say that in the present mood I am of the same opinion and will be very glad if we get plenty of fish and seals to work at. Often thinking of my chums at home, especially when we have nothing to taste our heart and them on shore enjoying the first of the season's fruit, etc. But am beginning to like our ship.
SUNDAY 17th MAY.
Weather a little better; sun very strong and clear. Have duff today for dinner. I think if they would add a little pea soup along with it life would be sort of bearable. We see the Diana ahead of us, will likely speak to her tomorrow. Go on deck at 4 on Monday Morning. Think I will now turn in after reading a chapter of my Bible. Chips and I always try to get a quiet half hour for that purpose.
MONDAY 18th MAY.
Went on deck at 12 right to 4 this morning. Weather cold with a shower of drift now and then. We are 79.26 North. Picked up a glass case such as are used by Norwegian fishermen. It is a glass globe woven over with netting. It is used for floating their nets and lines. We are sailing away north again, and can not find an opening in the ice south. The Diana leads the way. Unicorns are innumerable but are not lying. Everybody is well just now, but plenty of festered hands. Time hangs very heavy when there is no fish getting. The scene is very lonesome, nothing but ice and water. The only thing that enlivens the scene are the Malays and Unics. We are now 42 days out and am beginning to like it a little better. But they say that a voyage to the straits is nothing compared to this trip as they have plenty of sport there.
TUESDAY 19th MAY.
We have been trying very hard to get to the westward but ice is too thick; are heading North-East. We are getting very poor biscuits and they look well. Our second mate deals out the provisions and I must say that he is the most miserable man that ever I came across. He is a disgrace to the town he comes from. We are carrying meal and rice, molasses, supposed to be sufficient for all hands. We have got out the molasses and find that there is not one-third of the quantity required. Then he has point-blank told them that they will not receive any other rations, such as meal and rice until the skipper specially orders it. We have plenty good bread on board, and he refuses to give us any. So the crew are very angry at him. They have been very busy preparing an effigy of him for some days and it was burnt tonight - our boat-steerer, White, is the ringleader in all these capers and he is a capable hand at cutting out hands and faces out of turnips, so old Gordon was made and burnt at the mainyard while he held a pair of scales in his hands. He kept out of sight for some time. The Diana passed us while it was being burnt.
WEDNESDAY 20th MAY.
Still running North. No sign of an entrance. Active is in sight with all sails stowed and hooked on.
THURSDAY 21st MAY.
Pea soup today. This is the only diet that I can fully appreciate. I occasionally get a tidy piece from the steward. We are expecting to get meal out by and by. Our work in the meantime is 4 hours on deck and 8 below. I may say that we spend more time in cooking than on anything else. We made a new dish called Dandy Duff or Funk. It is made by pounding down the broken bread into fine flour, mixing it up with a little molasses, then it is fired in the cook's oven. It has a peculiar smell and the only thing I think it resembles is some of the stuff that George Wright used to give to his swine. It is a very windy food, and you easily know the gourmands of it when you are at lee side of them. Another dish is Scouor Sconce. It is made by boiling potatoes out down into small pieces, a small piece of salt funk mixed with fresh canned meat, onions and spice; boil them, serve up direct in plates, then wash it down with boiled tea or coffee (that has undergone the same process over and over again) filled into broken jugs without lugs. So much for food. I have a sore head tonight, but hope to be better when we turn out at 12 tonight.
FRIDAY 22nd MAY.
Went on deck at 12 this morning, came off at 4. Went below, came on deck again at 12, below at 4, then on at 8 to 12. There is a heavy gale blowing and we are under close reefed topsails and standing jib; have got an entrance into the ice. Things are not going so sweet in our mess as I would like but will hold my own. Weather not very cold as the wind is blowing from the South. I have got an old coat from G Thowers but it is torn, but am glad of it in the cold weather.
SATURDAY 23rd MAY.
Heavy gale lasted until about 4 in the afternoon when it faired away again. We are seeking the open sea again with (I understand) the intention of going South. Shot one seal today. We are thinking long for some active work such as the killing of a whale. No other ships have been seen for the last few days. We have got out the meal and have had porridge. They went high with a little molasses and sugar. We are all in good health meantime. The steward tells me that the Skipper is not very well, he not having tasted meat for the last 3 days. He does not look very well. The steward tells me that the captain has been very bad for the last few days. He has not spoken to me for some time, but I intend to enquire at him about his health and see if I can suggest anything for the boil - that is his trouble. Chips is about broken-hearted with the conditions. He is a chap like myself, brought up amongst respectable people of a kind, but he is very hasty and he is determined to move to the tween decks. It is a very cold and dark place but he will not have the heats and chills that we have just now. Hope we will be amongst the ice tomorrow. Chips is going to ask canvas to make a hammock today from the Captain.
TUESDAY 26th MAY.
The carpenter has moved to the tween decks and is making the best of it. The weather is very unsettled and all appearance of a gale.
WEDNESDAY 27th MAY.
Heavy gale blowing. Took in the west boats at 2 in the morning.
THURSDAY 28th MAY.
Still a heavy gale. Hope it will subside shortly. I am past getting sick now while she is showing her heels.
FRIDAY 29th MAY. The gale has increased and we are being gradually driven to the south. Everything is very uncomfortable just now. The spray is blowing over the good old ship and we welcome dinner time, especially when it is pea soup.
SATURDAY 30th MAY.
No appearance of the wind abating, and all hands are getting a little sick on the job.
SUNDAY 31st MAY.
Still a gale. We have drifted about 40 miles to the leeward and have about 120 miles to make. Tomorrow is the first of June and we hope it will bring a change.
MONDAY 1st JUNE.
No change, weather still in the same condition, but appears to be a little clearer. We are in the open ocean again and the old lady is showing her heels, but I am in the pink of condition.
TUESDAY 2nd June.
Weather a little better; wind from the South West. Ice is coming to the east by south and we are seeing a few seals and birds now.
WEDNESDAY 3rd JUNE.
Weather generally improved. We have started to work North West again.
THURSDAY 4th JUNE.
Fine weather again and things are a lot more cheerful. We have spoken to the Diana and find she has broken her shaft which means that there are now two cripples in this country now as far as steam is concerned. This accident happened on the 28th May, during the gale we had. The ice we see now is more massive and the pieces are of a great expanse. Plenty of flaw rats unicorns knocking about. We saw a bear today, and intended going after it but had to bear away down on the Diana. Just going through the same old routine as usual.
FRIDAY 5th JUNE.
Another very fine day. We are keeping company with the Diana and the hands are grumbling at the two ships being in so close proximity to one another. This forenoon the Diana shot a bear just under our bows and our crew's remarks were very sweet. We have sighted a ship, think it is the Active; expect to speak to her tonight. I have two or three patients just now, one the seaman with a festered finger, the other Duffy, a seaman with a scalded arm, one with Neuralgia, another with snow blindness. Am a little disappointed that I am not acquainted with more internal complaints.
SATURDAY 6th JUNE.
We are having very fine weather just now. The sun is shining very bright but it is not so warm as it would be at home. We have been going North by West. Nothing of any importance occurred in the forenoon. I went aboard the Active at 8 bells in the evening in the dinghy with another hand and the Captain. I was commissioned to borrow some things for our engineer and steward. I spoke to Sandy Geddes, Wm Bruce, 2nd mate; had coffee with him in the half deck and had a news with Sandy Thomson (Clung) cook. The Captain of the Diana came aboard the Active and I suppose there had been a council of war about his shaft. Brucie tells me he has been very far into the west and was hooked on during the gale, but was very nearly beset by the extraordinary heavy floes. We returned to the Polar about one in the morning when we turned in and had a good sleep. Things are going a little better just now till the next quarrel arises. My mate and I are on the best of terms and live very well together and I wish there was a half deck like the Active where there is any amount of standing room, etc. and everything up to date.
SUNDAY 7th JUNE.
This is plum duff day. The only distinction between today's duff and Thursday's is a few currants. Still, it is of some importance for it lets us know when it is Sunday. This is the day that I find most slow as I think on the quiet way it is spent at home. Truly one needs to want the benefits of a good home before he can know their proper value.
MONDAY 8th JUNE.
Pea soup day, my favourite dinner. Nothing of any importance going on. We have been steaming all this afternoon, and about 6 bells in the evening we shot some looms from the deck. The cook, Chips and I went away in the dinghy, picked up two and overtook the Polar while she was steaming. The 2nd mate is a most miserable scourge and he had a fancy for the birds but we got them below after I had snubbed him for which I expect to get his thanks. Chips is enjoying his hammock in the tween decks while I still remain in the half deck making the best of it.
TUESDAY 9th JUNE.
Broth or Kail day. Had porridge in the morning along with a little condensed milk mixed with warm water and sugar, taking them after we came below. I feel more at home. Then we have had oatcakes and cheese, plenty of rice occasionally, which is very hard on the sugar. We use very little marmalade to our grub. We still have jelly, honey and sweets and a bit of cake. We have our lime juice now and then and an occasional scrap from the cook and steward, but I may say that the latter is more mindful of strangers than me at times, but we manage to get along. Weather very fine. Our latitude today is 79.15, the farthest north we have been is 80.20, the bosun says 80.15. We are going under steam again.
WEDNESDAY 10th JUNE.
Weather all that could be desired, but are getting impatient for a fish. We have spoken to the Active and find that she has got other two fish, one of them a good size about 11 feet and the other about 8 feet 6". They got them on the 8th and 9th and were very busy making them off when we sighted them. It was very thick at the time and she was made fast to the ice. We were a bit surprised when we boarded her in the evening.
THURSDAY 11th JUNE.
Weather still very fine with occasional showers of sleet and snow. We are picking up the bears. I was away today with the 2nd mate G Thowers. Went away with a boat's crew and succeeded in killing two and wounding a third which we pursued. It was in the water and when we came up to him after a long pull he showed his beautiful teeth and roared like a lion, but we succeeded in shooting him and towed him to the ship where he was quickly skinned. After he was skinned I got a bottle of grease out of his stomach. He was a fine young bear, the other two being his mother and brother. Some of the hands are very busy shoreing up a ham. I have tasted his flesh and find it very sweet when it is parboiled or stewed, but the old hands do not like to see them eating it.
FRIDAY 12th JUNE.
We have sighted the Balena and expect to speak to her this afternoon. We are all wondering if she is fished. Nothing of any particular note took place in the forenoon. We see the Active bearing away down on the Balena who has the jack half mast high. All hands are wondering who is dead. Some are suggesting so and so that we know. We are running down upon the Balena. After we have run about 2 miles from her, our man in the nest says that he thinks it is the skipper (Captain Fairweather); so it turned out to be. He has hardly ever been sober since he came out of Dundee and he was in delirium tremens when he died on the last day of May. This was to be his last voyage to the sea, so it has turned out to be his last on earth. Now he has returned to our God who will judge us all when we appear before him on the judgement day. The Balena was driven very far south and fell in with the Terra Nova, towing the Diana. The Terra is a great big whaler and her being in this country has caused a bit of surprise. We are all in good health just now, but I must say that I sometimes long for home. My messmate, J Thowers is a very nice and sociable chap and we are getting on rare messing all together.
SATURDAY 13th JUNE.
It has caused a bit of gloom amongst the crew (them that have any sense), and I am sorry to say that they are easily counted. I had a look off the Bridge and saw the Captain's coffin lashed to the starboard side of the deck on top of the deck house. All her hands are seeking home, but the Terra Nova's Captain has settled that they must prosecute the fishing here for their own interest and their owners. I think that there must be a lot of sore hearts beside my own in this country, for there is the best ship sailing about with her captain on board dead. Then the Diana with her shaft gone and nothing aboard. We see the Diana bearing down on us and we expect to speak to her about 6 o'clock. Meanwhile we are just dodging along the best way we can. Our dinghy boarded her and she reports having been towed about 60 miles by the Terra Nova when she was thrown off. Shortly after, a whale was sighted and the Diana's boats were dumped, then the Terra's line went down and snatched the fish, a very heavy one it turned out to be.
SUNDAY 14th JUNE.
Time is rolling on and we hope to see it spent at home in a different way in the course of a 7 or 8 weeks. I earnestly hope to be home with a full ship as early as possible.
MONDAY 15th JUNE.
We are now enjoying very fine weather, in fact, it is equally as good as the kind we have at home (if not better). It is not so warm but there is a glorious sun steady day and night. We have seen bears occasionally and hope to shoot a few by and by. Everyone is in good health just now and only two or three patients are coming on fine. We have got out our stores and find that our butter this time is much better. Our Captain shot a fine bear today during the dogwatch, 4 to 6. She was chased after a bit piece by a boat from the Diana. It made for the edge nearest our ship. So the Captain got his boat away and got pretty close to it while it was engaged watching a small seal. He fired at it and the bear made a spring for the water, howling with pain. He fired again and killed it and had it fast to his boat in no time; then he killed the seal it was after. When it was brought aboard I measured it and found it to be a large one 8 feet 6 inches from end to end; its lower jaw was in splinters while the other shot had lodged in its brain. I have got a bottle of grease of it. Everything of the same routine gone through today. I am now taking the wheel with my watch.
TUESDAY 16th JUNE.
Very fine weather, now and then a little thick. Have the Active and Diana around us. Saw the Terra Nova from the mast head; expect to speak to her tonight. The thickness is very disagreeable here and I cannot understand how they can fish here in such weather. The Harpooner says that the next month, July, is worse. Dog Watch, 6 to 8. The great Terra Nova is now within sight from our deck. The Active is lying alongside her and we are bearing down on her. I would like to get aboard her but as it is my hour at the wheel I will not get away in the boat bearing our Captain. She looks a very poweful vessel; Barque rigged with a powerful screw. Things are very home like with all the ships lying around here. Our Captain has got over his illness and is looking a good bit better.
WEDNESDAY 17th JUNE.
Went on deck at 4 and was just in time to get into the boat that was going to relieve the one at the Nova. We went aboard and I must say she is a splendid ship. I was received by Bob Allen, Sailmaker in her, and was showed round her. She has tween decks like the Music Hall and a top gallant forecastle of grand accomodation with plenty of light and air. I had my tea with Bob and his mess mates, a chap Watt belonging to Peterhead. We had a grand tuck out, a spread of Ginger Cake, Jams, box biscuit, etc. Bob gave me a bag of N.F. bread; it is very white and is not so hard as ours. We returned at 6am. Got our boat aboard and clewed up our sails. Then we undertook a job that made our crew smile, namely, that of towing the Diana, a powerful ship. All our hands and hers were astonished at the progress we made, having towed her 60 miles in 24 hours. Then we threw her off and went under sail. There are a few of our hands bothered with bad hands and heads. Still every one is in good health. One particular thing that I observe about these men is this - the old stagers that can stand the cold on deck and in the nest have a very bad habit, namely of shutting off all source of ventilation, and I being used to plenty of that, take very bad with it, but must submit to the will of the majority.
THURSDAY 18th JUNE.
Got the Diana in tow again and towed her for about 6 hours when we were compelled to throw her off at the edge of the ice. While we was doing that she came up on us and was within an ace of knocking in our stern. We could not get out of her way for a big piece of ice that lay before us and her jib boom came right aboard of us, getting entangled with our mizzen guys and topping lift. It was a moment of suspense for there was a good lift on and the ships were heaving a good deal, then the Diana swung broadside on to us and just escaped getting her side cleaned of boats, but we forged ahead and got clear. We are now shaping for the South and can already feel a change in the weather.
FRIDAY 19th JUNE.
Weather thick at intervals with a cold chill, but cannot complain seeing we are in Greenland. We are about 77.20 today and we are gradually drifting south, picking about an occasional seal and bear. Time is rolling on and we are getting a little anxious about our voyage; in fact we are inclined to think that the seals are our next job.
SATURDAY 20th JUNE.
Nothing of any importance taking place, just the same routine, sleep, work and eat, but are hoping for work in the taking of whales or seals. This is Kail or Broth day, one of good dinners we get. Our cook makes good soup and is a very clean chap.
SUNDAY 21st JUNE.
Amongst the ice. Everything very quiet. The Diana close to us. Our ships are like phantoms gliding through the ice without any signs of life. This is plum duff day. I used to like this day but I am growing tired of it and long for pea soup. We get it twice a week, Kail twice, fish once, duff twice.
MONDAY 22nd JUNE.
Still amongst the ice in small streams. Lost sight of the Diana on Saturday; have not seen her again. Saw a small Norwegian smack today. I was astonished when I saw such a small ship so far north. Our mate also saw a schooner from the nest but I did not see it from the deck. Fell in with the Diana and Balena today about 4 in the afternoon and we are all heading south. Am a little sick today but was all right after a sleep.
TUESDAY 23rd JUNE.
Saw the Diana again today but she is to the leeward. Our small ship can make a fool of any of them, beating them hollow in going to the windward and in stays etc. Kail today. Have made a cover for our wire winch. Nothing of any importance.
WEDNESDAY 24th JUNE.
Am busy preparing to make a few mats. Was up and put on a piece of leather casing on the foot of the topsail (Main). The weather is very thick at times rendering it impossible to proceed far under steam. We steamed about 12 miles today then we set sail again. The light at night is just the same as day. The sun at times being very brilliant. Saw a good few seals (Saddles) making for the ice, but that kind is not in good condition just now.
THURSDAY 25th JUNE.
Went on deck at eight, had a little work preparing four mats; clewed up sails and steamed West North West in the track of the Terra Nova. I think we are bound for the seals now. Everyone is in good health. We are agreeing much better in the half deck now. Boarded a little sealing smack named the (Alken) belonging to Hammerfast. It happened to be our watch on deck when she was close at hand. Our captain ordered the starboard chain boat to be cleared away and manned. I got in amongst the crew and we pulled away towards her. At first sight she appeared to be a weak slim little craft but when we got aboard her we found her otherwise. She was a craft of about (I would think) say 40 to 50 tons, carrying 2 long boats and one dory and manned by 12 men; the Captain, a nice open faced man of about 35 years; the mate, a chap very like a Scotsman; then the Harpooner there lived in the cabin, while the remainder lived in the forecastle. Our captain went below so we had a look over her. They had been sealing lately so her deck was not very clean. Her boats are like a whaleboat but each man pulls two oars. We were invited down to coffee and readily went, where we enjoyed a spread of nice soft tack, good butter and sugar, coffee, etc. The soft tack were little round biscuits like the upper half of a peel cookie with a little sugar sprinkled on the top and tasted very nice. After that we bartered some of our tobacco for theirs, then we returned to our ship. The smack had been out eight weeks and was almost full, her catch being 700 seals, yielding 250 barrels of oil (each barrel being like a parafin one) and was on her passage home. We have seen other two but they have been too far away to speak to them. Very little doing, just a few seals getting. There is a good few knocking about but they are always on the move and it is very vexing to see them slip off the ice whenever we get near them. I have started to make a mat for the captain, one partly made of sinate and baggy wrinkle. As I have to attend on deck whenever I am wanted, and as I take a wheel too, I find that it will take me a good while to make one. The weather is very fine just now and if it was not for the mists and fogs it would be a most pleasant time. We are started to go South and think we are about 75 degrees North. Picked up another globe such as is used by the Norwegian fishermen.
FRIDAY 26th JUNE.
Very thick in the morning but cleared away towards noon. The man reports having seen a ship ahead, thinks it is the Terra Nova. She is dodging about like ourselves, picking up an occasional seal.
SATURDAY 27th JUNE.
Today often sends my thoughts to Bonnie Scotland and makes me think about all them there, but I do not care about allowing my thoughts to remain long on that subject as it makes me a little melancholy. We shot a few seals today which made things a little lively. I had a shave, washed, shifted my clothes and had a general overhaul. Everyone is well enough but one of our harpooners, a chap named Thomas Elder, whose face is very bad with pimples and I think our captain would like to see the Terra Nova's doctor about him.
SUNDAY 28th JUNE.
A beautiful morning. Ship under all sail, proceeding South by West. This is plum duff day and I have had a busy day preparing a little sauce and some rice pudding for dinner, so as we can keep our duff for tea. Our home stores is not all done; we have some of our ham, jelly, honey etc left, but our flour is almost gone. Toward 7 o'clock we hooked on to the ice for about 2 hours, then cast off, proceeded under sail till midnight. Thickness came down when all sail was taken off and the ship allowed to lie.
MONDAY 29th JUNE.
Weather still changeable but very mild. We are still going South West, today we are about . But we have a good distance to go yet. We are still getting a few seals. They are of different species, namely the Flow Rat, Whiteyface, Saddle, and Bladder. The last is the biggest and most ferocious and it is a very difficult thing to kill them once their hoods are up. Today soup day; did not turn out to dinner. Things are getting a little lively now. We are seeing a fight now and again, but they come to very little; in fact it is merely a bit bluster and a good many oaths etc, then things resume their old way.
TUESDAY 30th JUNE.
This is the last day of June and by this time next month we will have a good idea of the fate of our voyage. Things are very dull on board here when we are off the fishing banks and everybody appears to be in the doldrums. But we must hope on and never let down the heart until we are out of the country altogether. Today the carpenter's mate had a very narrow escape of drowning. He was repairing the gunwales when she tilted over and he fell in. Luckily he got a hold of her and was hauled. At night a more serious accident occurred by which our boatsteerer, White, received a very severe shock and bruise. A seal was shot off the deck and he was told to man the dinghy, so he jumped in. Hardly was he in when down went the dinghy with a crash, while she held fast by the bow. White had not time to grasp the stern falls, so he fell out over the stern, hurting his hip as he did so. But he had the presence of mind to hold on to the boat while some of us helped him into her. He was taken below where I rubbed him down and saw him attended to. Nothing more of any importance took place today.
WEDNESDAY 1st JULY.
This is the first day of a new month and we hope to do better this month than last as we have only about 6 weeks now to go, so we will need to hurry up. Several of our hands are grumbling a good bit about our bad luck but they are not paid much attention to by the sensible members who lay very little stress upon them or their value. In fact, there are a good few on board here that are pure and simple gasbags who just require a square stroke on the jaw to settle them. Up to date I have kept clear of rows pretty well but I will let some of them see if they will try on their tricks with me. Two of our watch had a little difference today but like the rest it came to very little. Everyone in fair health. I am in good health just now and looking a little fatter I believe. We fell in with the Diana today, expect to speak to her tomorrow. She must be a very warm ship just now with her broken shaft and clean hold. Old Kenneth McKenzie is spectioneer of her and I have had just one yarn with him. I suppose he will be very down in the mouth about his luck.
THURSDAY 2nd JULY.
The weather in the morning very dull, but not cold. It is getting more milder as we go the farther south. We can work on deck with our naked hands freely. We are going West by South just now and are 16 degrees West, 73.5 North. There is very little doing on board just now. All hands are making steps for our lines and doing little jobs. Our daily routine of work is very dull and there is little or no excitement to break the monotony. Today we had a little diversion. Our lookout on the Forecastle Head reported a blast away on the lee bow. There was a good deal of excitement at the time but it died away, the captain reporting it to be a finner.
FRIDAY 3rd JULY.
Thick fogs, weather very wet and disagreeable. Cannot understand how the ships can prosecute the fishing here with much chance of success as nearly every day it is thick. We have spoken to the Diana today and both ships are hooked on to the ice. Just as our boat was lowered away to hook on we spied a bear. Brown, my harpooner, was sent away to shoot her, but missed after having a very good chance. We are to water here I understand.
SATURDAY 4th JULY.
Still very thick weather. The fog in this country is very damp and chilly when the wind is from the east or thereabout. While the thickness is very oppresive, not a sound to be heard except pieces of ice meeting in collision. Our hands are amusing themselves in their leisure hours by various games and tricks. There is no change in the routine of life, in fact, it is very dull when we are hooked on. I have been in the boat that was engaged digging a hole for the anchor several times.
SUNDAY 5th JULY.
The Diana is lying ahead of us hooked on like ourselves. We were fast ahead of her but cast off and took a berth astern. I went on board her and had a news with old Kenneth McKenzie. He is very sick of the voyage and regrets coming here this year. His ship narrowly escaped carrying away a side of boats and otherwise damaging herself by colliding with the ice. He says it is foolish to remain in this country longer that the 20th of this month as it is very rare that the fish are got later. He also thinks that the best plan that his skipper would have done whenever he found his shaft gone was to have returned at once to Dundee and got the necessary repairs and stores etc, then proceeded to Davis Straits where she would have been in good time for the fall fishing weather. Still very thick. We are gradually drifting south.
MONDAY 6th JULY.
Still hooked on. I have been bothered for the last two days with a very sore inside, vomitting and diarrhoea, and am pretty weak after the trouble. I think it must be the change of water. We are now drinking the water we took from the flow. There are several others in the same condition and opinion.
TUESDAY 7th JULY.
Nothing new. Still very thick. John Thowers succeeded in cutting off a bear making tracks for the Diana and ended by shooting him in the water. Jack is a nice fellow, quiet and thoughtful. We are at present 73.14 north but want into the west land 50 miles yet.
WEDNESDAY 6th JULY.
No change in the weather. It is very thick at times with a blink of sunshine. We are still in company with the Diana. We are getting a little anxious about our fishing as the time is wearing away very quick. I am told that we are drifting very fast in a south westerly direction and that in a few days we will see the land. The ice is growing very rotten now, each piece under water being full of holes just like a rotten cheese.
THURSDAY 9th JULY.
Thick weather. Proceeded a little during a clear blink. Nothing of any importance taking place. I have some rare yarns with the fellows in our watch. Some of them have done time and have given me a good idea of prison life, coupled with their life on shore.
FRIDAY 10th JULY.
This is fish day but as our fish is done we get pea soup instead. Our allowance of spuds is stopped now but the half deck is always supplied with the usual potfull at dinner time. Since this month came in the days have flown away and I wish we had another fish aboard.
SATURDAY 11th JULY.
We are still picking up a few seals but their fat is very poor, their season being past. SUNDAY 12th JULY.
Are proceeding under canvas North West. We are about 50 miles from Cape , and if the weather keeps clear we hope to see land in about a day or so. Everyone is in good health just now.
MONDAY 13th JULY.
A great change has taken place in the weather. The mist has cleared up and we see the land. It is a wild rugged mountainous country of a dark brown colour with beautiful valleys thickly coated with snow here and there. I was up in the nest tonight and had a grand sight through the long glass and goggles. There was frozen waterfalls of beautiful description. At this time we were about 20 miles from the land, still in company with the Diana who had a boat away after a seal. There was not a breath of wind and the scene was grand.
TUESDAY 14th JULY.
A little thick this morning but it cleared away towards the forenoon when the sun broke out in great brilliancy and warmth. I believe if the fog would keep away and allow the sun to come out it would be a very warm place. We are about 72.10 North, about 100 miles north of Jan Nayen Island which lies in a South Easterly direction from here. Weather grand far exceeding our warmth at home. Fogs occasionally. Land presents a wild appearance. The Diana has succeeded in fixing a few more bears. Our watch were away after some seals and the echos of their rifles as it passed against the hills and valleys was heard for a good while. Things on board are very dull, in fact we would be better with more work to do. I am still working away at my mat and giving the hands a pull on deck.
WEDNESDAY 15th JULY.
The weather is still good and it is very warm. It makes the time a little shorter when we see the land close by and relieves the eye from the scene of continual ice. We are all in good health just now, although there are little rows now and then. The Diana is hooked on close by us and we exchange visits with the chaps we know. There is very little to enter here, just the same routine as we have gone through for the last 3 months.
THURSDAY 16th JULY.
Repaired the Foresail aloft; while engaged there the heat was very strong and horizon very clear. Took the Diana in tow again and towed her about 4 hours when we both hooked on because the thickness came on. It is a rare scene to see the two ships hooked on and one cannot but think on the great explorers such as Franklin and Peary when they wintered in the wild winters. Our home stock is not done yet and we have a tasty bit now and again. Our honey has come in very handy, so has the strawberries. All hands are beginning to wonder when we will clear out for home. For myself I don't mind putting in a while longer here as long as the weather keeps warm. I have been enquiring at the old hands as to the prospects of our voyage and one and all predicts no more fish for us but they are liable to be mistaken and I hope so. Birds are very scarce about the land; I expected the reverse so we have not had any more bird scones.
FRIDAY 17th JULY.
Weather very cold in morning but cleared up at noon when the sun came out in grand style. Heat fine, sky beautiful. Got under way at 6 in the morning, took the Diana in tow at 1 and towed her till 9 at night. Not a breath of wind.
SATURDAY 18th JULY.
Glorious weather. I am astonished at the mildness we have here. It is as warm here with a southerly wind as we have it at home in the summer time. We are still towing the Diana.
SUNDAY 19th JULY.
Another glorious day. Sun bright and not a breath of wind. But towards night it gets a little chillier, but we have still the sun though she is gradually getting a little lower.
MONDAY 20th JULY.
I am still going on with my mat. It will be a good one about 4 feet by 4 feet with the corners slightly rounded. Repaired a hole in the foresail caused by one of the reef points having been made fast to the fore top gallant back stays, so when we braced the yard, we tore the bit out. Took the Diana in tow at 12 o'clock noon and towed her till 11 o'clock at night.
TUESDAY 21st JULY.
Took the Diana in tow at 2 in the morning and was towing her up to 10 in the forenoon when she lowered a boat and proceeded ahead of us to a bear. This sort of work did not please one old man so he told the Diana crew to cooly hand in the towline. We lowered a boat but the Diana's boat had a good start and succeeded in getting the bear after the harpooner had fired 10 shots at it. We got a heavy one today measuring 8 feet from tip to tip.
WEDNESDAY 22nd JULY.
There is a real change in the weather. It is getting a little colder now and the Bag ice is making, so we are making for the outside under steam and sail. We were in a tight place tonight. Had a deal of trouble and had to run back for 2 hours before we got a right lead to the rolling blue.
THURSDAY 23rd JULY.
We are at the edge again and are skirting it going N.E. When we are a good bit north we are to go inside again and give it another trial. Things are getting a little warmer just now. Everybody is getting a little sour now and again but it is best to let it go by.
FRIDAY 24th JULY.
We are still running north with a fine breeze. We can see the Terra Nova and Diana away to the S.E. of us. The Terra appears to be shaping for the south with the intention of proceeding to the Davis Straits, so I will not see any of the Peterhead hands again.
SATURDAY 25th JULY.
Weather very thick which makes it very dangerous in this country as there is a number of pieces of ice floating about at the outside, and our little barque has got a goodly number of hard knocks already, so our officers require to keep their eyes open. I am presently engaged putting in our Captain's name on the back of the mat. When that is done it will be finished. It looks a very fine mat and is strongly made.
SUNDAY 26th JULY.
A very cold day. Wind from the North East with a sprinkling of snow. We are still proceeding North Easterly under canvas. We observed the Terra heading apparently for the Straits. The Diana is still in our company being about 2 miles to the leeward of us. Things are getting very dull on board and if we are not going to get any more fish I don't mind although we were on our way home.
MONDAY 27th JULY.
Thick weather, cold and damp. Things are getting to be very gloomy.
TUESDAY 28th JULY.
Got a bear in the morning and another in the afternoon. Gave chase to another but did get three bears today. Our skipper saw them from the deck and we lowered away at once. He came himself with us and we pulled away with a will. When we came up we found them to be a mother and two cubs. The mother was in the middle and the cubs were sucking. We pulled right up to them and the old man brought her down and with the next, one of the cubs. He then fired at the other but it made off over the floe, the old man giving chase, followed by the mate's boy, but he did not get it. We then made fast the old one to the stern, pitched the cub into the boat and pulled to the ship. The first shot the mother received did not succeed in killing her and she managed to rise to her feet and give one pathetic look towards her young cub. She was shot dead. Hooked on and took in water. The piece was too small. Had to go up to the one the Diana was fast to. Took in the remainder of our water. Got under sail and proceeded westwards. Active has hove in sight; expect to hear from her tomorrow.
WEDNESDAY 29th JULY.
See the Active with her Speck falls gone. Expect her to have some fish. We are still going west.
THURSDAY 30th JULY.
Went aboard the Diana then to the Active with the old man and Ferry Willie. They have got another fish very far west, but they have not been so near the land as us. We got one ice anchor in place of the one we broke some days ago, we then returned to the ship at 12 o'clock at night.
FRIDAY 31st JULY.
We picked up a few seals and bears. Things are growing very dull and we are thinking our voyage is about up.
SATURDAY 1st AUGUST.
We have now entered upon the last month of our voyage (we hope). We are about 73 degrees North and are coming through some very heavy floes, one piece getting foul of our port quarter.
SUNDAY 2nd AUGUST.
Very thick weather, cold, damp and disagreeable. I have finished my mats and they look very well. This country looks very wild at this period of the year and it must be a very bad country in the winter time.
MONDAY 3rd AUGUST.
Still foggy and hooked on. Strong breeze of wind blowing. Have a wire hawser and a hemp one out. We have got all our water aboard now and are started to wash down the ship before we paint. I was aboard the Diana today and had a long news with Kenneth McKenzie. I expect she will be away home before us.
TUESDAY 4th AUGUST.
We are still bound East by North but think that we will be on our return journey by and by. Things are very dull and I am beginning to get very lazy. We just go on deck the four hours, then down again. Then our half deck is too small to do any work to ourselves and we have to retire to the bunk again.
WEDNESDAY 5th AUGUST.
This month has been (up to date) a very thick and disagreeable one and if it is to be the same all through, the sooner we are out of this place the better. No one knows when we are going to leave for home, and it is a comical thing to hear the crew surmising when we are to leave. For myself, I think it will be about the 15th of August. We are started to put the fishing gear below.
THURSDAY 6th AUGUST.
Nothing of any importance has taken place. We have been hooked on for some time and we are all clean for paint and tar now, only waiting for a warm day.
FRIDAY 7th AUGUST.
Still thick, nothing to note. I have been very negligent with my notes and am always a few weeks or days behind and have to recall them from memory and make a very poor job of it sometimes.
SATURDAY 8th AUGUST.
We are beginning to go towards the West South West, so we may say that we have started on our homeward run. We have to go in that direction as we will have a clear way out and small water.
SUNDAY 9th AUGUST.
Duff day. We are wondering how many more duff days we will have on board our old barque. Spoke to the Active today.
MONDAY 10th AUGUST.
We have to hook on again as it is very thick and disagreeable. All hands are getting very happy at the prospects of getting home again, and I am of the same mind as them.
TUESDAY 11th AUGUST.
We got 3 bears today. We have now 23 bears, 46 seals, 1 whale, 1 narwhal and a little fish like a Jerusalem Haddock that the mate's watch got today. We started to tar today. We are 71.29 North today and the weather is a little better. We have been under sail a few hours today but have to tie up again. I have put on another shift of clothes. This is the first shift I have had washed aboard. They do not have the same cool clean feeling that my ones have.
WEDNESDAY 12th AUGUST.
We got a bear this morning. It was a monster for size. All hands were called at dinner time to get the boats in. We mustered among the crew but found we had to go to the mats. We have a fair wind and fine weather.
THURSDAY 13th AUGUST.
We have still a faint breeze of wind but are steaming also. We expect to see our old home in a week or so if we get good weather. All hands are busy washing and scrubbing the paint work below. Our hearts are a little lighter now seeing we are homeward bound.
FRIDAY 14th AUGUST.
We have nothing but a wild expanse of the deep blue around us. We got a rare sight this morning. We have no man at the mast head now but one takes a run up the rigging now and then. While Alex Thowers was up he observed a large number of birds rising and flying about. On closer inspection we found it to be the huge body of a finner whale about 70 feet long, surrounded by sharks and sword fish. We lowered a boat and the Captain had a look at it, but found that they had devoured a large portion of its back, and as we were a good few miles from the ice, we agreed to proceed on our journey. These sword fish are a very powerful fish, having a tail like the narwhal and a blast something similar, a long mouth 6 feet long, filled with teeth like marlin spikes, and having a huge fin on their back like a gaff topsail
SATURDAY 15th AUGUST.
Wind inclined to veer round ahead but we are still lying our course. All well.
SUNDAY 16th AUGUST.
Wind ahead, strong breeze increasing to a gale. We are two points off our course. If we keep going we will arrive at Norway. Should not mind if we did - any port in a gale you know. The weather is a little milder now, seeing that we are in 67.29 North by 18 West.
MONDAY 17th AUGUST.
Wind still ahead with a nasty sea. We are still plodding on under topsails and Foresail Mainsail and Fore and afters. Hope we will get a fair wind by and by.
TUESDAY 18th AUGUST.
Still a head wind with a heavy sea. I have been very bad today. Everyone is sick of the head wind. We saw a barque today apparently bound west.
WEDNESDAY 19th AUGUST.
Head wind. Everybody tired of it. I am busy making mats for the cabin.
THURSDAY 20th AUGUST.
Plunging about. I do not know where we are but hear we are about 250 miles from Faroe Isle.
FRIDAY 21st AUGUST.
Glorious news. A fair wind, everything set, steaming too. We have got all the lines made up and put below in the lazarette. On Saturday we have to paint her round.
SATURDAY 22nd AUGUST.
Wind away ahead again. We are in sight of Lambeness, the North end of Shetland, so we are going to the East of Shetland Isles. We are close hauled and are abreast of Lerwick. Wind has freshened and we were in great fears of being blown away to the leeward of the isle. But the wind has changed in an instant at 4 o'clock on Sunday and is blowing a gale.
SUNDAY 23rd AUGUST.
Duff day. I am wondering if we are to have another - I hope not. We have got a glorious view of the green land again, how fine it looks. Lerwick looks to be a snug little place away in a bight. We have passed it about 11 o'clock today when the churches was in, I suppose, and are off the Flamborough Head. 2 in the afternoon, passed Fair Isle.