The Diary of Robert Walker of Richmond, 1815 - 1890
Introduction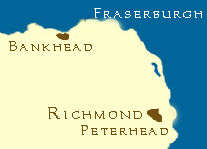 In a small black book, given to me by the writer's descendants, I found a truly fascinating account of day to day life in Victorian Buchan.
Bankhead, Aberdour, where Walker spent his younger days, and Richmond, the house and land he acquired as a young man.
With additional research notes and reports from the newspapers of the day, the Diary Extract pages use quotations from Walkers diaries to guide us through the events of the second half of the 19th century and allow us an insight into life in Victorian Buchan from a gentleman farmer's point of view.
It was in 1992, during research for a book I was writing about Peterhead's whaling industry, that I first became aware of Robert Walker's Diary. My main objective at that time was to make contact with the descendants of whaling master, Captain David Gray of Peterhead. I had traced a family member in Australia who put me in touch with another in Lima, Peru, who eventually put me in touch with the Captain's grandson, Frederick Wernham, who was living in Elgin - about an hour's drive from home!
I arranged to go an see Frederick Wernham (always known as Peter) and spoke with him at length about his family. Though Peter was in his eighties and his health was failing he was delighted to find so much interest in his forebears and I spent three memorable afternoons in conversation with him. When Peter died the following year his wife called me to say that she would like me to have the diary.
Amongst the pages packed with cues and ideas for the historian lay some real gems, such as this entry from May 1866 that would surly catch anyone's eye. "Went to the election at Ellon. Heard Charles Dickens read." Other references, from local concerts, whale ship reports and herring catches to stars, comets, crops and Highland flora, drew me into the book and I had to find out more about its writer. Remarks in the diary reveal a conscientious and compassionate man, always aware of his responsibilities to his environment and, above all, his family.
Walker was not unique but he was special. What made him special was his forward drive and willingness to embrace the technology of the day, as a true son of the agricultural evolution and perhaps one of the last of his breed. What made him extra-special was the fact that he wrote it all down and his notes, though brief, give an insight into a rare blend of public and personal remembrances.
I would like to thank Edna Wernham most sincerely for allowing us all an opportunity to explore and reflect on the life and times of Robert Walker and his family. On a more personal note, I would like to thank Edna for her kind and warm-hearted generosity. GS 10/04/01
PS The one thing we do not have is a picture of Robert Walker. We do know that a photographer called "Colier" spent time at Richmond in the summer of 1865, but so far, have found no evidence of his work. If you have photographs or more information about Robert Walker and his family, please do get in touch with us. We would also be delighted to hear from anyone who might have a personal note to add to the issues raised in the Diary Extracts. GS
Additional research: Kate James