The Diary of Robert Walker of Richmond, 1815 - 1890
Robert Walker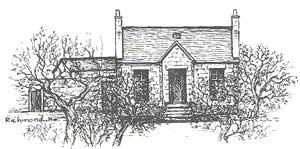 Robert Walker was born in Aberdour on 28th September 1815, one of the eleven children born to Robert Walker Snr. and Jean Grant.
Richmond House, Peterhead
From The Whaling Years, courtesy University of Aberdeen
At that time the family occupied Waulkmill, a small wool mill and croft on the Aberdour shore that had been owned by the family since about 1720, perhaps even earlier. In the old kirkyard at Aberdour the Walker name appears on a number of headstones. The earliest mentioned is a James Walker who died at Waulkmill in 1800 at the age of 93.
When Robert was a young lad his father took on the neighbouring farm of Bankhead. The family's association with the busy wool mill and Bankhead Farm had been a prosperous one. In 1834 the Parish Records of Aberdour noted that Robert Walker (the diarist's father) made a handsome donation to the kirk of £100, a small fortune at that time, in aid of the parish poor.
After an apprenticeship as a cartwright in Rosehearty, Robert and three of his brothers used their inheritance to purchase neighbouring lots of land on the outskirts of Peterhead - Robert, at Richmond, George at Balmore, Alexander at Grange and Thomas at Howe o' Buchan. The family connection with Bankhead came to an end when Robert Walker Senior died on 10th November, 1860. A month later the diary notes the "sale at Bankhead." The final disassociation with Waulkmill followed ten years later with the death of the diarist's great uncle Peter. At Aberdour kirkyard Peter Walker's epitaph reads "He lived in single blessedness at Waulkmill for nearly 70 years, a pattern of contentment, admired and loved by all who knew him."
Violet Souter, the daughter of whale ship master, Captain John Souter of Peterhead, became Mrs Robert Walker in 1838, and so began the diarist's long association with the whale oil trade. Like many other business men of his day, Walker had investments in the whaling ships and allied onshore industries such as rope and sail making.
The day to day running of Richmond is well documented by Walker with regular references to his crops, the weather and visits to feeing fairs and livestock markets.
He was a man of many interests and a keen botanist. He was a founder member of the Buchan Field Club, a society formed in November 1887 for "the study of natural science and of the archaeology, folklore, history and the literature of Buchan." He was also a member of the Parish School Board and a keen supporter of Peterhead Library and Museum.
Family notes
Robert Walker
1815 - 1890
son of Robert Walker, 1784 - 1860 and Jean Grant, Aberdour

married
Peterhead, 1838

Violet Souter
1815 - 1902
dau. of Capt. John Souter and Isabella Ogilvie, PD
Walker's Children, all born at Richmond, Peterhead
Jane Isabella
1838 - 1923
Died Peterhead

Robert
1840 - 1866
Died Rourkee, India

Amelia
1841 - 1937
Died Aberdeen
John
1843 - 1888
Died Portland, Oregon

Violet
1845 - 1914
Died Peterhead

Ogilvie
1847 - 1883
Died Peterhead

Margaret Ann
1849 - 1935
Died Cults, Aberdeen
Ann Elmslie

1851 - 1930

Died Cults, Aberdeen

Alice Elizabeth

1857 - 1867

Died Peterhead

Charles

1858 - 1934

Died Aukland, New Zealand
Photographs of Ann Elmslie Walker and Charles Walker courtesy of the late Margaret W. Maxwell nee Walker, (daughter of Charles Walker) New Zealand.
Walker's Sons
Robert, the eldest son, chose a career in the army. He was Gazetted Ensign of the 16th Foot in 1858 and died at the age of 25 while on service in Rourkee, India, in 1866. A second son, George, died in his childhood.
Following in the steps of their maternal grandfather, two of Walker's sons became merchant seaman who, in addition to their numerous long-haul voyages with trading ships, both had experience of the whaling; Ogilvie sailed as Engineer with the Eclipse, under the command of his brother-in-law, Captain David Gray, in 1870. He died in 1883. John, a ship's officer in the Merchant Navy (2nd Mate 1862, 1st Mate 1866, Master 1868 - aged 25) died aboard his ship, Largo Law, in Portland Oregon, 1888.
Charles, the youngest of the boys, tried a number of professions including a very brief stint with the "Scotch" Fusilier Guards before leaving for New Zealand in 1879.
Walker's Daughters
Robert Walker's daughters were born to live the lives of typically middle class Victorian ladies. A tale of extremes. For those in good health, life was enjoyable, but infant and child deaths were commonplace and the grief and tragedy was shared equally through the classes. The youngest of the girls, Alice, born in 1857, died of "scarletina" when she was only ten years old. Amelia, the second eldest daughter was born in September 1841, married Captain David Gray in 1863, had eleven children and lived to the age of 96. Widowed in 1893, she sold the family house, The Links, in 1919 and then settled at The Elms, Bieldside, Aberdeen where she died in December 1937.
The Steam Railway came to Peterhead in the 1862, bringing with it a new found freedom to those who could afford it. Walker's daughters travelled regularly around Britain and parts of mainland Europe.
From the diary: 1861 October 5th: Jane and Violet to Edinburgh to spend winter with Uncle Thomas [Walker].
1877 26th August: Maggie and Annie went to London. 1887 12th July: Annie from Germany and Violet from London.
Family Notes from the Diary
1861 September 27th - John (18) returned home from Bombay.
1861 October 4th - John left for Liverpool and Jane (23) and Violet (16) for Edinburgh to spend the winter with Uncle Thomas.
1863 October 5th - Jane (25), Amelia (22) and Mama (48) gone to Aberdeen.
1864 October 9th - Ogilvie (18) went to J. Simpsons. Robert (24) at Cork on his way to India.
1865 July - 17th Colier taking a photograph of Richmond.
1865 Dec 1st - Robert (25) has passed examinations at Rourkee College.
1870 January 20th - Removed Alice from the Old Churchyard to the New Cemetery.
1870 March 12th - Ogilvie has gone 2nd Engineer of the Eclipse.
1871 February 27th - Had a letter from John from Suez and one from Ogilvie from Bombay. Both well.
1874 August 13th - Charles (16) went to Mr Boyd's office.
1876 January 5th - Charles (18) went J. Simpsons.
1876 October 30th - Charles went to Aberdeen to Russels.
1877 January 8th - Charles (19) went to Glasgow.
1877 February 6th - Charles listed into the Scotch Fusilier Guards. John Captain of the Coldstream.
1877 July 6th - Charles got his discharge from the army.
1879 September 10th - Chas. sailed for New Zealand.
Additional information courtesy of Gordon Junner, Aberdeen, from letters sent to him from Charles Walker's daughter Margaret Winifred Maxwell (nee Walker) born Aukland 1907, died NZ, 2000.
Charles Walker was sent to Glasgow to train as a "saw-doctor" and carpenter before a very brief spell with the Scots Guards. He emigrated to New Zealand in 1879 to join his cousin John Brand to work in his timber business in Otago, on the south island. When Brand died Charles assisted his widow until all business matters were cleared up and then worked his way back north to Aukland (rabbit trapping for skins) where he worked for a while with another cousin, A. Wilson, a well established farmer. There he met, and later married, Catherine Creighton. They spent some time in Melbourne, Australia, where Charles worked in the timber trade and as a teacher. They later returned to New Zealand. Charles died in Aukland, New Zealand, 13th November, 1934. He and Catherine had 5 children.
Ann (Annie) Elmslie spent time in Germany where she taught herself the language and painted as a hobby. In later life she shared a house with her sister Margaret Ann in Cults, by Aberdeen.
Thanks to Dell Paton of Australia for the following information which traces the Walker line back a further three generations to the Parish of New Deer, Aberdeenshire. One branch of her lineage goes back to Peter Walker, the diarist's half-brother.
John Walker (diarist's great, great, grandfather) married to Margaret Willox. They had six children, all christened in New Deer: Robert (diarist's great grandfather) christened 11 Mar 1705, Jannet christened 14 Mar 1714, Alexander christened 4 Aug 1716, John christened 12 Nov 1718, Elizabeth christened 21 Feb 1724 and Jean christened 29 May 1726.
Robert Walker (son of the above John and Margaret Walker) married a so far unknown and had two children christened: George Walker (diarist's grand father) chr 25 Oct 1741 New Deer, John Walker christened 11 Feb 1744 New Deer.
George Walker married Anne Elmslie 28 July, 1783 in Old Meldrum. They had one son, Robert, chr 11 Oct 1784 in Old Deer. He died on 10th Nov 1860 at Bankhead of Auchmedden and is buried with his wife Anne Elmslie and his second wife, Margaret Murcar, at Aberdour Kirk.
Dell Paton's lineage stems from Robert Snr's son Peter (diarist's half-brother, born 1805) who married Isabella Mitchell. Peter's son William married Ann Jane Shand. Their daughter, Mary Shand Walker, married Stephen Edminson Borthwick. (Stephen won a Military Medal in France, WW1). Their son, James Tait Borthwick, emigrated to Australia and during his army service in World War II became one of the famed Rats of Tobruk. He married Linda Nellie Hislop who had a daughter, Dell Paton nee Borthwick.
Now in her late sixties, Dell learned to sail and navigate when she was in her forties and made numerous voyages through the southern seas, facing the challenges of solo sailing in search of her father's war history as a member of the Australian forces who fought against the invasion of Milne Bay, Papua New Guinea, in 1943.
Please contact us if you know more.