The Ledger of The Polar Star
Messrs. Mitchell & Co., Ship Owners, Peterhead.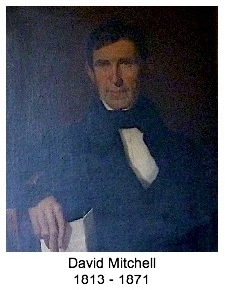 A well-known civic dignitary of our town used to say: "If you have any money and don't know what to do with it, buy a Greenland ship; if you have any more left, buy another!" He spoke from experience - from the bottom of his heart and his purse.
Findlay's History of Peterhead, 1933.
The 'Polar Star' was one of a small fleet of whaling ships owned my Messrs. Mitchell and Co. of Peterhead, in partnership with Captain David Ewan, the company's principal ship commander.
William and David were the sons of James Mitchell, a hand loom weaver and textile manufacturer in Peterhead and Susan Mitchell (nee Ewan) also of Peterhead. Both men were successful in their own right before joining forces to establish a shipping company, William as an ironmonger and David as a draper and mercer.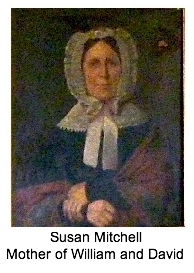 Their first ship, built in 1839 by Scott and Stevenson of Backgate Street, Peterhead, was the 'Mary Ann Henderson', named after William's wife, began her career as a trader with voyages to South America and Lisbon before she joined the town's whaling fleet under Capt. David Ewan, in 1852. Though she was lost in 1854 her success at the whaling was encouraging and other ships soon followed including the famous 'Polar Star', built by Stephen and Forbes in 1857, and 'Windward', from the same builders, in 1860.
Both brothers, William born 1810 and David three years later, spent their early lives at their parents home in Broad Street. William married Mary Ann Henderson from Boyndie by Banff in 1837 and they set up home in Maiden Street. A few years later the family moved to St Peter Street, and following the death of his wife, William moved to Ship Row and eventual retirement in Jamaica Street.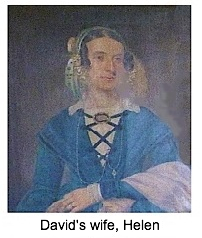 David Mitchell married Helen Arbuthnot in 1838 and lived at first at their drapers shop in Marischal Street. In the 1860s, with success as both a mercer and ship owner, the family moved to the estate of Berryhil, once the property of Lord Newton of Berryhill and Faichfield, two miles landward of the town, on the road to Longside. It was there that David died on 1st November, 1871, at the age of 57. His wife lived on at Berryhill into the early 1900s and the house remained the home of his unmarried daughters, Susan and Mary 'Polly' Ann, until the 1920s.
David's son William, after training as a solicitor, left Peterhead in his early twenties for Ceylon where he found success as a tea planter. He married Eliza Alice Pyper there and they had five children.
Their youngest daughter, Constance Clare Davidson Mitchell, was brought up at Berryhill by her aunts Susan and Polly. Her granddaughter is the present holder of the ledger.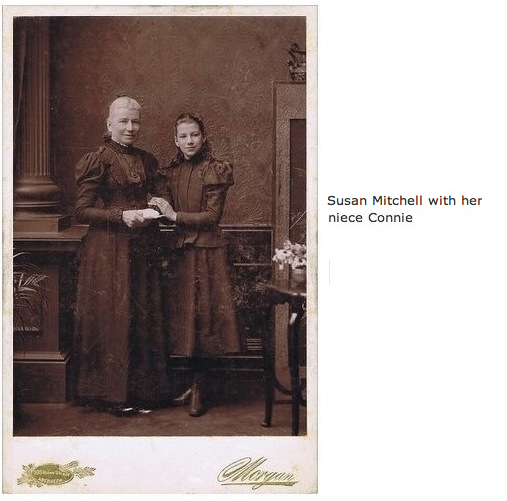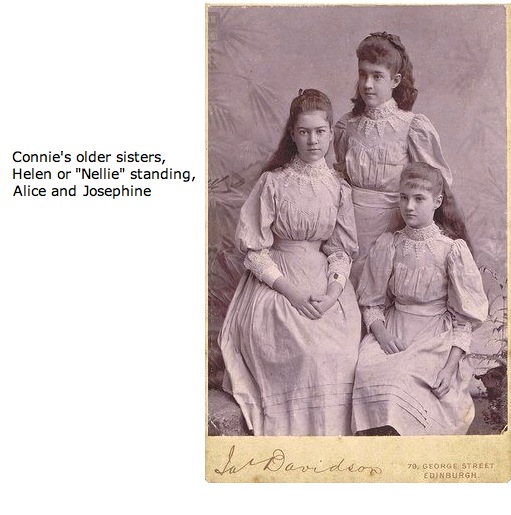 Peterhead Sentinel and Buchan Journal, Saturday, 7th January, 1899

DEATH OF MR WILLIAM MITCHELL, PETERHEAD
We have to announce with great regret the death of Mr William Mitchell, one of our oldest and most-respected townsmen, which took place at his residence in Jamaica Street on Saturday evening last. Mr Mitchell, who was in his 89th year, having been born in Peterhead on 18th September, 1810, continued to move about until within a few months ago, when his health and strength began to give way, and latterly his well-known figure began to be missed from the streets. The eldest son of Mr James Mitchell, woolen manufacturer, he began his business career in the service of his father, but at an early age he took over the ironmogery business conducted by Mr Gilchrist in Broad Street, where the Town and County Bank building now stands. For half a century Mr Mitchell continued to trade here, being most successful, not only in his business as an ironmonger, but also in the seal and whale fishing, then in its palmy days so far as Peterhead was concerned. He was interested as owner or part owner in a number of whaling vessels, and among those specially built for him was the Windward, now famous as the ship in which the Jackson-Harmsworth expedition sailed. Mr Mitchell was, needless to say, a man of much general intelligence and exceptional business ability, his projects uniformly thriving under his hand. As one of the original presidents of the Peterhead Golf Club, he took a keen interest in the game, and it is not long since we had occasion to note, how on a very cold and stormy day, he followed the players in an important match around the course. He was a devoted member of St. Peter's Episcopal Church and a generous giver to all church funds. But, indeed, Mr Mitchell's spirit of kindly philanthropy found expression in many directions, and his gifts, frequently anonymous, to local charities, as well as to deserving individuals, will be sadly missed. Deceased, who was of a hearty and genial disposition, is survived by three sons and a daughter. The sons are Captain Mitchell, Ellon; and David and Anton, Peterhead; the daughter is Mrs James Smith, Burnshangie, Strichen.
THE FUNERAL
The funeral took place on Thursday from Mr Mitchell's residence in Jamaica Street to the Old Churchyard. The obsequies were attended by a large number of the general public of the town, in which Mr Mitchell was for so long a prominent citizen. The coffin, which was of light oak, with brass mountings, was conveyed to the churchyard in a hearse. The chief mourners were - Captain Mitchell, Ellon. Messrs. David and Anton Mitchell (sons), and Mr James Smith, Burnshangie, Strichen, (son-in-law). Rev. G. R. Walker, rector of St Peter's Episcopal Church, officiated both at the house and at the grave.
The following letter to the editor appeared in the same edition of the Peterhead Sentinel and Buchan Journal:
"And so William Mitchell has gone ! When a man passes your window daily, even if it be only for a year, and when you know that he has weathered the south-east winds of Peterhead for fourscore years and more, and still looks hale and sensible, you begin to think of him as more or less a fixture. And that was my feeling regarding Mr. Mitchell. There are old men who are obviously mere survivals of a former age who dodder along in the state of "second childishness and mere oblivion, sans eyes, sans taste, sans speech, sans everything." But Mr. Mitchell looked you intelligently in the face, knowing what you said to him, knowing and thinking of what he said to you. In spite of his great age, he looked, last time I saw him, good for a number of years yet. One would have expected to see more signs of decay, both physical and mental, than he manifested. And the very familiarity of his figure in the streets of Peterhead makes one realise afresh, with painful intensity, the inevitableness of death, which in the press of concerns and interests we are apt to forget. "By the door thou standest, wondering tenderly of him that is gone ; presently the doorway shall be empty of thy form, and another shall stand there wondering of thee." Francis Grose.
Mitchell Family Files
James Mitchell born Longside, c1783 - 1858 Buried PD Old Kirkyard 22/3/1858
m. 11th August 1808, Peterhead
Susan Ewen born PD c1782- 1861 Buried PD Old Kirkyard, 7/12/1861
(Christened PD 1787, father: David Ewin. Probably related to Capt. David Ewen. aunt?)
Children of James and Susan Mitchell (all born Peterhead):
William 1810-1899
David 1813 -1871
Isabella 1817-1895 m Thomas Lawrance, PD, 6/10/1840 d 5/10/1895, Agra Cottage, Fraserburgh.
Lillie 1819?-
Susan Torry 1821-1859 (m George Arbuthnot, seaman / shipmaster, PD, 14/12/1848) buried PD Old Kirkyard, 31/7/1859
James 1825-
Also three daughters died in infancy (no dates recorded) Eliza, Jane and Mary.
William Mitchell born PD, 1810 (Ironmonger / Ship Owner, 2, St. Peter Street) Buried 5th January, 1899, PD Old Kirkyard.
m. 25th June 1837, Peterhead
Mary Ann Henderson, born Boyndie, Banff, c1810 buried 27th December, 1855, PD Old Kirkyard.
(NB Mitchell's first ship, was named 'Mary Ann Henderson' and captained by David Ewan. The ship was built in PD by Stevenson and Scott. Capt. Ewan married Margaret Stevenson, daughter of ship builder Alexander Stevenson, in 1839.)
Children of William and Mary Mitchell (all born Peterhead):
Elsie Wilkie 1838-1842
Susan Torry 1840-1901 married James Smith, bank agent and farmer, Burnshangie, Strichen, 9/6/1868.
William, 1841, died after 26 days
Mary Ann 1843-1891
William Henderson 1845-1910, Fishcurer, died PD 24/4/1910
James Bathust 1847-1867
David Wilkie 1849-1903
Patrick H. 1850-1851
Anton Henderson 1858-1925
David Mitchell born PD 1813 (Mercer / Ship Owner) died Berryhill, 1st November 1871, aged 58.
m. 28th March 1838, Peterhead
Helen Arbuthnot 1813 - 1904, died Berryhill 22nd November 1904 aged 91.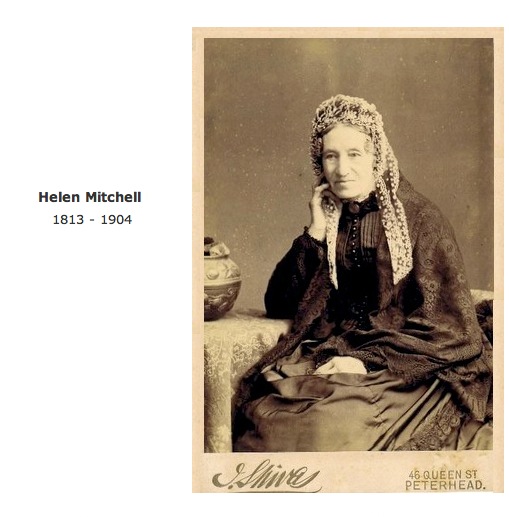 Children of David and Helen Mitchell (all born Peterhead):
Susan Ewan 1840 - Jan 1926 (spinster, Berryhill, teacher of languages)
George 1841 - 11th May 1892, aged 51, San Francisco
James 1843 - 24th September 1886, aged 43, South Africa
WILLIAM 1845 - 1910 (married Eliza Alice Pyper -b. Leith, 1847- in Colombo, Ceylon).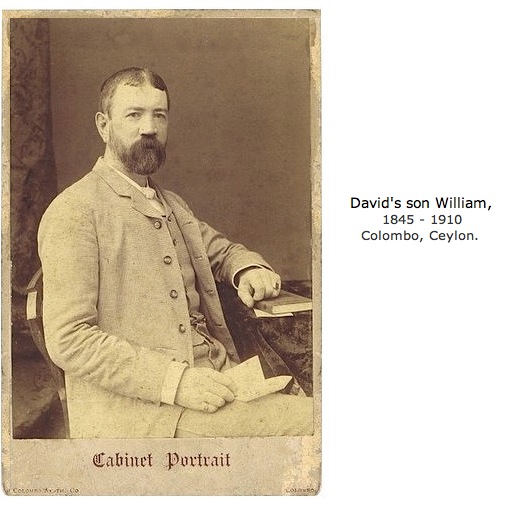 Helen Davidson 1847 - (married Dr. Nathaniel Lawrence, 1849-) Died Bridgend, Longside
Mary Ann Henderson 1850- 17th November 1930 ('Polly', spinster, Berryhill)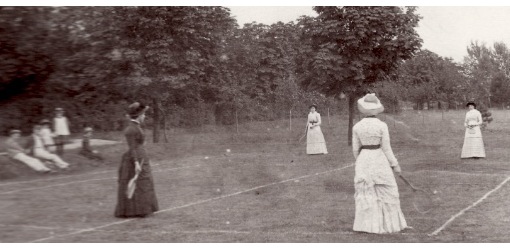 The Mitchells with friends, The Tennis Lawn, Berryhil