News - 2001
november 2001
Friday 16th. Music Teachers at the Archive.
A group of Aberdeenshire schools' music teachers spent a day at the archive where they were shown around our recording studio and introduced to the Murdoch Henderson Music Collection.
october 2001
Monday 22nd - Friday 26th.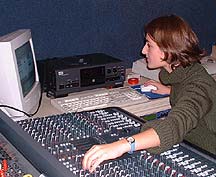 Trainee recording engineer Marine Rolland, a 17 year old student from College-Lycee, Lesneven, France, spends a week in the studio gaining work experience. During her stay she was guided through the process of recording, mixing and mastering to CD.
Marine engineering at the Soundscape workstation

Saturday 13th. Songwriters' Studio Workshop.
Jim Malcolm, of folk band "The Old Blind Dogs," held a songwriters' workshop at the studio today. A group of writers from around the North East discussed their work with Jim as he passed on some tips and explained his approach to song-writing.
august 2001
Wednesday 22nd.
Congratulations to Neil Mennie and Chris McEwan of Ellon Academy on their Grade A Advanced Higher Music results. (See below, Monday 21st May).
Sunday 19th, Pipers in the Park.

The Mass Bands line up in the misty arena to Salute the Chieftain at the close of today's Champion of Champions Pipe Band Competition.
Aden Country Park hosted the North of Scotland Champion of Champions Pipe Band Competition today, an annual event since the competition was established in 1993. Twenty one bands competed for the coveted trophies and, though it rained for much of the day, the wet weather certainly didn't dampen the spirits of the players who treated the crowd to a fine afternoon of music.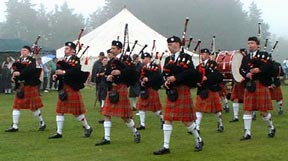 Pipe Major Dave Paterson leads Grade 2 winners Culter & District into the arena.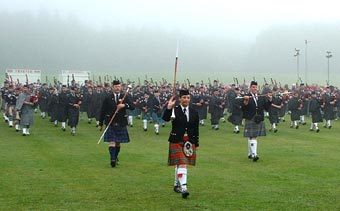 Drum Major C. Boyd of Oban, winner of the Drum Major Champion of Champions, leads the mass band.
This year's winners were. . .
Drum Major: Adult: C. Boyd, Oban; Juvenile: E. Buchan, Ellon & District.
Novice Pipe Band: Bucksburn & District (Juvenile).
Grade 4 Pipe Band: RAF Kinloss. Drums: RAF Kinloss.
Grade 3 Pipe Band: Bucksburn & District / Turriff & District (shared).
Grade 2 Pipe Band: Culter & District. Drums: Culter & District.
Grade 1 Pipe Band: Bucksburn & District. Drums: Bucksburn & District / Grampion Police (shared).
Marching and Discipline: Turriff & District.
Monday 6th, new nefa projects under way
Work began this week on nefa's CD-ROM / Website "The John Murdoch Henderson Music Collection." The studio will be busy recording musical contributions from a number of fiddle players and pipers for the new website which will also include articles and essays on our musical tradition and numerous illustrations and photographs. Who knows what Henderson's treasures might reveal. GS
july 2001
new nefa projects awarded grants - Friday 6th.
News of two grant awards arrived at nefa this week.
With support from SCRAN (The Scottish Cultural Access Network) and grant aid from The New Opportunities Fund, nefa's plans for a CD-ROM / Website based on the John Murdoch Henderson Music Collection is to go ahead. Additional material from the collection will be added to SCRAN's on-line database and also to the database held at nefa.
With grant support from the Heritage Lottery Fund nefa's plans to transcribe and database the Banff and Buchan Collection (the work of Tom McKean during his term as the district's Traditional Music Resident) will now go ahead. Initial work on the project has already begun.
Sincere thanks to SCRAN and HLF for their valued support. GS
Portsoy Celebrates our maritime heritage. Portsoy Boats Festival - Saturday 7th and Sunday 8th.
Despite poor weather crowds flocked to Portsoy this weekend to enjoy the 9th annual "Scottish Traditional Boats Festival." In addition to a fine display of vintage sailing craft visitors enjoyed a variety of attractions including street theatre and traditional music and dancing.
The festival was introduced in 1993 to mark the old port's tri-centenery and continues today in celebration of our maritime heritage.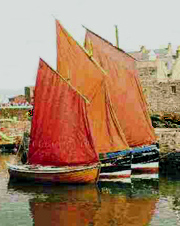 Vintage sail boats on display at Portsoy
Stavanger - Macduff - North Sea Yacht Race NEW RECORD - Sunday 8th.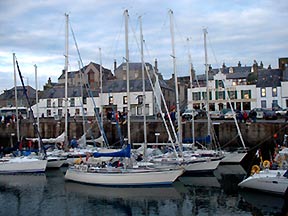 Yachts at rest in Macduff after a windy North Sea crossing.
The first of the yachts to cross the finishing line at the end of a tough North Sea crossing arrived in Macduff this evening. After a little over 30 hours at sea, a new record for the Stavanger - Macduff course, was set by the crew of the Norwegian 56ft trimaran "Undarousa." The boat's owner, Are Wiig, told me, "The sea was good for our boat, she likes a good strong wind. Next year's race from Macduff to Stavanger will be quicker!"
Go to Stavanger Maritime Museum.
Tuesday 10th.
Our Norwegian and Scots sailing guests enjoyed an evening of dancing and music at the Knowes Hotel in Macduff. With sea-songs and traditional tunes from local folk bands Bedlam Howe and Beggars' Feast, dance caller Lorna McLaren helped guide the enthuiastic crowd through their paces. The sailors will make their way home later this week. Bon-voyage! GS
june 2001
Doric Language to the Fore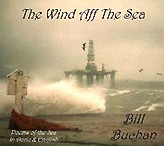 This month sees the release of a CD of poetry from St. Combs singer-songwriter Bill Buchan and the publication of selected children's poems by Sheena Blackwell and Les Wheeler.
Peterhead born Bill Buchan, an off-shore oil worker who began his working life as a fisherman, has recorded a selection of his poems under the title "The Wind Aff The Sea," a straight-from-the-heart collection which gives a fascinating and real insight into the life of those who make their living from the North Sea. "North East entertainment at its typical and topical best....when this reaches exiles there won't be a dry eye in the house, between the smiles that is.".(Sylvie Taylor, Leopard Magazine June 2001).
Further information and sales: Herring Moon Records
"Spik nae Evil" - Tales and Rhymes for Loons and Quines.
Les Wheeler and Sheena Blackhall have spent many years helping schoolchildren of all ages enjoy and use their native Scottish tongue through humerous stories and rhymes like those in this book. Order a copy from Sheena Blackhall at the Elphinstone Institute.
may 2001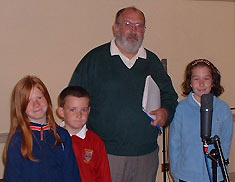 Les Wheeler with Stacey McLeod, Daniel Paterson and Julie Hastie of Pitfour School
Pupils from Pitfour School, Mintlaw, recording poetry at the Archive for Elphinstone Institute's "Kist" project -

Wednesday 30th.

A group of pupils from Pitfour School took part in a recording session at nefa today. The recorded material, which features poetry from a number of North East writers, will be used as a CD resource for schools.

An Elphinstone Institute "Kist" project, the CD will also include songs from Sheena Blackwell, Sheila Wheeler, Robert Lovie and John Crawford with music from fiddle player Pat McAndrew and pianist Bill Anderson.

As Les says:
"Saxteen bairns fae Pitfour Skweel cam tae the Archive tae record some new verse that's pairt o' a programme guided bi the Elphinstone Institute at the Varsity in Aiberdeen. The hale pint wis tae pit the Doric tae the fore. If we sow ivnoo wi jist micht hae a gweed hairst in 'ears tae come." . .Les Wheeler, 30/5/01
Academy Music Students Recording at nefa's ARC Studio, Monday 21st May.
Two students from Ellon Academy, both hoping to find careers as recording engineers, took part in their first recording session at the studio today for the Sound Engineering and Production module of their Advanced Higher in Music examination.
We wish them every success.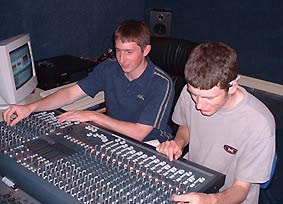 Neil Mennie and Chris McEwan at the mixing desk.
Surround Sound 5.1 - Studio News
Friday 12th May. Press and Journal, the first to cover our 5.1 Project.
Friday 4th May. ARC's new 5.1 playback system arrives. Installation begins.
april 2001
Surround Sound 5.1 - Studio News - Wednesday 18th April.
An important day in the studio - ARC's first 5.1 recording session.
Tuesday 10th. Busy in the studio experimenting with surround sound, a six speaker, around the room (or car) DVD based sound recording and reproduction system. We wanted to find out if this latest technology was suited to acoustic music, and the answer is yes! Watch this space for further developments.
march 2001
Fisher Superstitions - Saturday 24th.
Thanks to Dr Patrick Roper of East Sussex for this response to Morag Skene's "Open Country" interview. :
Listening to a recent Radio 4 programme about Peterhead, the commentator remarked that no one knew why local fisherman would not use the words 'salmon', 'pig' or 'rabbit'.
I think a possible explanation is that . . .
Go to Morag Skene's Fishers' Customs, Beliefs and Superstitions
Thanks for the mail - Monday 19th.
Thanks to everyone who contacted us over the last few days. We are catching up with replies but we have a major problem here in Aden Park - Foot and Mouth cattle disease is rife throughout the UK at the moment but, thankfully, there has been no suspicion of its presence here. We all aim to keep it that way and, as a result, the Archive is temporarily "out of bounds."
BBC Radio 4 "Open Country" at the Archive - Monday 12th.
Radio 4 presenter Helen Mark and Open Country producer Alisdair Cross called at the Archive today to record material for next Saturday's early morning show.
Peterhead writer Morag Skene discussed her work with Helen who also spoke to Paul Anderson about North East fiddle music and Gavin Sutherland about the vintage books and manuscripts in the Archive's Murdoch Henderson Collection.
The programme will be repeated at 1.30 p.m. on Thurs 22nd.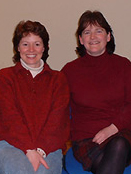 Radio 4 presenter Helen Mark with
Peterhead author and poet, Morag Skene

Iain Anderson Show, BBC Radio Scotland, features the Archive - Monday 5th.
Gavin Sutherland spoke with presenter Iain Anderson on Radio Scotland about his career as a musician and how his North East roots influenced his song-writing and his involvement with nefa.
Radio Scotland, 3 p.m.
february 2001
Radio Scotland at the Archive - Saturday 24th.
With a documentary programme on Scottish whaling in the making, BBC Radio Scotland presenter Mark Stephen and producer Adam Fowler braved today's stormy weather to meet with Gavin Sutherland at the Archive. Gavin's books, "The Whaling Years" and "A Whaler's Tale", were the subjects of discussion for a feature, as yet untitled, to be broadcast on Monday March 19th, at 11.30 a.m.
Earlier in the day the production crew visited the Arbuthnot Museum, Peterhead, where Museums Curator Dr David Bertie introduced them to the intriguing collection of whaling and Inuit artefacts. The Museum, built to house the collections of the late Adam Arbuthnot, was opened to the public in 1893, the year, coincidentally, that marked the end of the Peterhead whaling trade.
British History Award for nefa web site - Saturday 10th.
We were delighted to receive this e-mail message today:
"Congratulations, you have won the British History Bronze Award. This award is given to outstanding Web Pages and recognises the hard work that was put into the development of your web site. My compliments on a job well done!" Graham Day, British History Awards.
Our site was assessed on content and presentation. Many thanks to all who played a part in this success. Special thanks to Paul Gault, James Hunter, Greg Allen, Jacqui Sim and Kate James. GS
Snow, snow and snow - Tuesday 6th.
Things have frozen to a temporary halt as we weather the heaviest snow storms in many years. Where's my camera? . . . Where's my car??
january 2001
Duncan Wood to "play tribute" to his great aunt, Jessie Murray . . .
Monday 8th. Met with Cullen fiddle player Duncan Wood to discuss recording a few sets of tunes and songs for the Archive, some of which were first recorded back in the 1950s for Hamish Henderson by Duncan's great aunt, Jessie Murray of Portknockie.