News - 2006
october 2006
Aberdeenshire poet's work celebrated on CD - Thursday 12th.
Selected works by Alford poet Charles Murray (1864 - 1941) were recorded in the studio today by members of the Charles Murray Memorial Trust. The readers included broadcaster Robbie Shepherd, Les Wheeler of the Elphinstone Institute, doric writer Sheena Blackhall and Charles Murray enthusiast Gordon Hay.
september 2006
Longside Primary School celebrates its first birthday with a CD recording
The new school at Longside, Aberdeenshire, will celebrate its first year by recording a CD for Christmas release. Eight tracks will be recorded by on location, one from each class in the school, for an enterprise project led by the pupils of P7. The local press and radio stations will be promoting the CD over the next few weeks.
august 2006
Fraserburgh's young musicians enjoy an afternoon in the studio - Saturday 12th.
A group of young musicians who share an interest in writing, performing and recording music, are spending a weekend here at Aden Park on a team building mission. During their visit to the studio they recorded a couple of songs found out about how music is recorded and put on to CD.
july 2006
nefa.net receives educational award for excellence - Thursday 6th.
Our web site has been selected as one of the best educational resources on the Web by Study Sphere, an Internet directory of educational resources for students, teachers and parents. Congratulations and big thanks to all who have contributed.
june 2006
YMI Rock Band's Big Banchory Barn Dance - Saturday 24th.
Twelve bands from the YMI rock project celebrated the launch of their new CD with a concert at Woodend Barn Arts Centre this evening. The bands played to a packed house, they sounded great and a very good time was had by all. The concert was filmed and the bands were interviewed for a forthcoming DVD. The show marked the end of a six month project funded by the Scottish Arts Council. We all had a good time and hope to do something similar next year.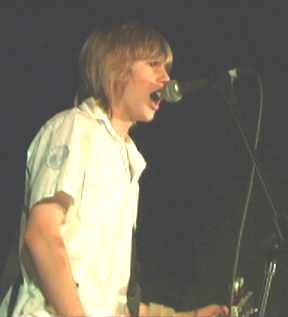 Defiance rock at Woodend Barn
More stage and backstage pictures here.
may 2006
Broch Pipers record new CD collection - Friday 12th.
The Fraserburgh Royal British Legion Pipe Band finished recording their new CD at the studio today. Some of the tunes were recorded earlier this month on locatin at the town's British Legion Club. Congratulations to the band on coming fourth in the recent national championships.
april 2006
Duff House stages its first traditional music festival - Saturday 1st.
Leading Celtic band Capercaillie opened a weekend of Scottish folk music events at the inaugural festival of Scottish music, The Rant at Duff House in Banff. The first event of its kind to be held at the Georgian mansion, brought together well-known Scottish folk groups, local talent and also featured a family Ceilidh on the Coast for a weekend of lively entertainment.
march 2006
Youth Music at ARC Studio - Saturday 18th.
Work on a compilation CD for young Aberdeenshire musicians began today at the studio. Twelve bands have been selected for the CD which will give the young musicians studio experience and an oportunity to record their own material. The project will run over the next three months.
february 2006
Duncan Wood's Welcome to the Duff House Ball
Cullen fiddle player Duncan Wood has been in the studio this month recording 19th century tunes for a Duff House based project. The majority of the tunes and sets are from works by Isaac Cooper, a Banff musician who wrote and taught music locally in the late 1700s and would have been a regular favourite with those who visited Duff House at a time when the town of Banff was a popular winter resort for Scotland's aristocracy. The finished work will soon be available on CD.
january 2006
Paul Anderson researching Henderson for Elphinstone project - Tuesday 31st.
Tarland musician Paul Anderson was recently awarded a Fellowship at the Elphinstone Institute, University of Aberdeen, with a mission to explore the relationship between traditional fiddle styles and those of modern musicians. Paul was at the Archive today investigating the The Murdoch Henderson Collection.