News - 2008
march 2008
Poetic duo record CD at ARC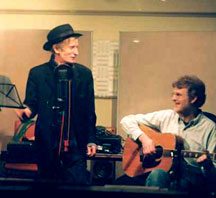 Poet John Mackie of Banff and guitarist Adrian Ballie of Whitehills, recently joined forces to create an artistic blend of poetry and music. Following the success of their recent live performances the duo, known as Infinate Equation, were in the studio for three days last week recording material for their forthcoming CD.

february 2008
Audio workshop for young musicians Thursday 7th.
Pupils from Troup House School visited the studio today to find out more about today's methods of producing and recording music. A great time was had by all and they went away with some pretty awesome hard-house dance music!
january 2008
New Look nefa site goes on line! Friday 12th.
After several weeks of refurbishment and access improvements the new-look nefa site went on line today. Many thanks to open|box|design, Aberdeen, for all the hard work and creative input.