News - 2005
december 2005
Macduff School Choir record their seasonal CD
Macduff Primary School's choir and recorder band recorded four Christmas songs for a school enterprise CD project. The CD will be manufactured and promoted by the children themselves and sold in aid of school funds.
Formartine Oral History Society embark on new project
With help and support from the archive and studio the Formartine Oral History Society have begun to collect material for a series of CDs relating to the history of central Aberdeenshire. Examples of their work will be added to the nefa web site next year.
november 2005
Exciting opportunity for Aberdeenshire's young rock and pop musicians
Following the success of a pilot scheme earlier this year the council's arts team have secured funding from the Scottish Arts Council to introduce an initiative which will help young musicians develop there skills as performers and give them a better understanding of today's music business. With help and guidance from a number of industry professionals twelve acts will be chosen to provide a track for a compilation CD which will be launched in June at a celebration concert at Woodend Barn Arts Centre, Banchory.
october 2005
Slains School Choir recording at Aden - Sunday 30th.
Backed by a small band of local folk musicians, the children of Slains Primary School were at Aden Park today, recording songs and tunes for their Christmas CD. Included in the repertoire was the song Collieston Calling, written by a local poet in honour of his home town.
august 2005
Burns an' Gow an' ah that. . . ! - Saturday 21st.
Following the success of their recent concert of Burns songs and Gow tunes at Duff House, fiddle player Duncan Wood of Cullen, folk singer Claudia Wood and guitarist Brian Miller, were in the studio today recording material for a CD collection. The blend of well known and little known tunes and songs will no doubt be of great interest to enthusiasts of the Scottish song and fiddle tune tradition when the CD is released later this year.
july 2005
Work begins on a new chapter for the nefa web site - Wednesday 20th.
Huntly singer Shona Donaldson has been commissioned by the archive to research the history of a number of local songs. Over the coming months Shona will be preparing work for the web site and recording the songs of her own choice.
june 2005
Portsoy Boats Festival - Primary School Choirs recording - Friday 24th.
The archive's location recording team recorded a concert performed by local primary schools today as they opened Portsoy's annual Boat Festival. Choirs from Aberchirder, Banff, Bracoden, Fordyce, Macduff, Ordiquhill, Portsoy, and Whitehills performed a number of traditional songs with words rewritten by the schools and performed in the local dialect.
may 2005
Girl band Heaven Scent record a fund raising CD - Saturday 7th.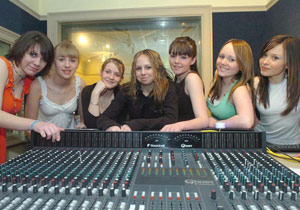 Seven girls from Aberdeenshire schools have formed a singing group in order to raise funds for the Anthony Nolan Bone Marrow Trust. They were in the studio this weekend recording songs for a CD due for release next month. All proceeds from sales will be donated to the charity which supports research into leukaemia and bone marrow transplants.
If you would like to know more about the new CD or make a donation to the trust please e-mail George.Walker@anthonynolan.co.uk
april 2005
Shona Donaldson records for the Huntly Pipe Band project - Wednesday 13th.
Singer Shona Donaldson was in the studio today recording some songs for a CD soon to be released by the Huntly Pipe Band. In addition to the pipe tunes the band are soon to record, the CD will feature songs from Shona whose reputation as an accomplished singer and musician is spreading quickly around the country. After studying the fiddle and voice at the The National Centre of Excellence in Traditional Music in Plockton, Wester Ross, the 19 year old Huntly born performer is now reading Scottish traditional music at Glasgow University.
march 2005
Soundzgood Choir - Thursday 9th.
The Soundzgood choir, from primary schools in the Banff area, were recorded today at Banff Primary School for an educational CD. Additional songs were performed by a group of Kodaly Method instructors who are presently working in Aberdeenshire schools. The Kodaly Method of teaching music (originally developed by a group of Hungarian musicians headed by composer Zoltan Kodaly) has been widely adopted in schools as a way of introducing the basics of music to younger people.
february 2005
Academy Students' Rock Bands at ARC
Four young rock bands from Banchory and Huntly will be in the studio this month, mixing and mastering the live recordings they made last year for a project funded by the Youth Music Initiative. The recently established YMI aims to improve facilities and opportunities for young musicians throughout Scotland. The finished work will soon be available on CD.
january 2005
Joe Aitken takes Bothy Ballad Champion of Champions Trophy - Saturday 29th
Kirriemuir farmer Joe Aitken beat off stiff competition to take the coveted Macallan Brose Bowl at Elgin today with a spirited rendition of The Hairst 0' Rettie. Competitors included second placed Geordie Murison of Netherley and, in third place, 17 year old Neil Crilley of Bridge of Marnoch. The event was organised by the Elgin Rotarians who donated the evening's proceeds to the tsunami disaster appeal.