News - 2009
august 2009
Work begins on Gow music collection . . .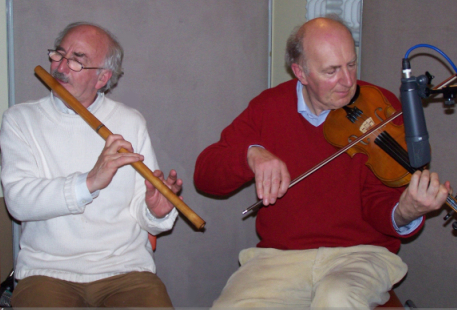 "Boys of the Lough" flute and whistle legend, Cathal McConnell and Cullen fiddler Duncan Wood, have started work on an album of tunes from Gow's collection. The CD will be released later this year and selected tunes will be featured in the NEFA Collections section.
june 2009
Plans begin for a NEFA Junior . . .
The archive has begun work on a new section designed and produced for shools and younger users. Retired Turriff teacher, Jennifer Leys, is working with archive staff on this exciting new project.
may 2009
Alford School Speaks The Doric . . .
Pupils from Alford Primary School were in the studio this week recording a CD version of their soon to published book "B is for Foggie Bummer", a Doric alphabet project led by artist Debbi Beeson.
march 2009
Fisher Folk and Off Shore Men . . .
Busy in the studio this month with Aberdeenshire folk band The Fisher Folk making a 15 track CD collection of their favourite songs. Also in the studio Paul Scott, singer-songwriter, recording a selection of his songs with a band of musicians he met up with during his time off shore in the oil fields of the North Sea and Gulf of Mexico.
february 2009
Greig - Duncan Collection revisited . . .
Dr Katherine Campbell from the department of Celtic and Scottish Studies at the University of Edinburgh has recently finished recording a CD to accompany the book "Songs from North-East Scotland: A Selection for Performers from the 'Greig-Duncan Folk Song Collection'" (Edinburgh: John Donald, 2009). The CD contains performances of fourteen songs that were originally collected by Gavin Greig and James Bruce Duncan in the early years of the twentieth century.
january 2009
Happy New Year!
We are delighted this month to join the rest of Scotland, and indeed folk "the world o'er" in celebration of the 250th anniversary of the birth of our National Poet, Robert Burns. Though Burns was born in Alloway, by Ayr, his father, William Burness, was a native of the Mearns here in the North East and now a part of Aberdeenshire. We can, therefore, lay claim to at least a part of the national treasure we know simply as "The Bard."